Peter J. Leahy MD, FACP, FCCP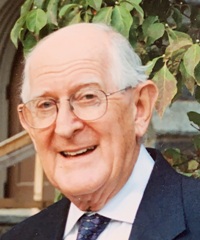 July 6 1931 – February 21, 2020
Former President, Massachusetts Medical-Legal Society, Dies at 88.
Peter J. Leahy, of Milton, MA and Little Diamond Island, ME, died peacefully at home, surrounded by his children and his loving wife, Donna Crump Leahy, on Friday, February 21st, 2020.
Born in Cork City, Ireland, in 1931, he was the youngest and most difficult of three sons born to an English mother and an Irish father, Frances Farrell and Michael Leahy. His childhood passions were varied, intense, and lasting: ships and the sea, aviation, theater, film, history, and music. For his 15th birthday, he begged for a 8mm movie camera, which he used to document the grand transatlantic ocean liners coming and going from the Port of Cobh; dreaming of mid-century glamour and adventure.
His desire to be an actor thwarted by his parents, he was guided toward University and Medical School, graduating University College Cork Medical School in 1954 and heading straight for the "The States." He arrived in New York Harbor on September 4th, 1954, aboard the MV Brittanic
After interning in Pennsylvania, Dr. Leahy joined Carney Hospital in Boston, where he was Chief Resident in 1957/58, and would practice Internal Medicine through the 1990's. He served in various leadership roles at Carney and surrounding hospitals, as Medical director of the MBTA, and as Senior Medical Examiner for the Federal Aviation Authority (New England.) He was an Assistant Professor of Medicine at Boston University and Tufts University.
He practiced medicine and life with kindness, heart, wit, compassion and an unwavering loyalty to his patients, family and friends.
He married Ann Quinlan in 1963, and they had four children, who survive him, Shelagh, Michael, Peter, and Annie. He was absolute in his desire to shake off the weight of his own constricted and "Victorian" upbringing, and to raise his children with warmth, love, and openness. He raced home to put them to bed at night and tell them stories, insisted on good manners and ample expressions of "I love you," and generally indoctrinated them into his interests.
He made many transatlantic crossings, partial to Cunard. He took deep pride in his American-ness, and in his American children, who were once described by an Irish friend as "very well behaved, for Yanks." He got a kick out of that.
Dr. Leahy was active in Community Theater, performing in countless plays and Gilbert & Sullivan productions in and around Boston. He acquired his pilot's license in 1972 and flew Piper Cherokees out of Norwood Airport. He felt a real man should be able to whirl a woman around the dance floor, and was a competitive Ballroom Dancer for a time. He kept boats at Dorchester Yacht Club, Hingham Yacht Club, and in Portland, Maine. He was an avid sailor and a solid downhill skier.
In 1970, he bought a small cottage on Little Diamond Island, in Casco Bay, where his family has enjoyed 50 years of nature, community, and memory making.
When his first marriage ended in the late 1970's, he suffered over the loss of his dream of a family life, but remained first and foremost, "Dad;" fathering at a level unusual for his generation. The primary instruction to everyone he worked with was that his children were to be "put through immediately" if they called.
In 1999, he met Donna Crump, the love of his life. For 20 years, these two peas-in-a-pod loved, laughed, and lived. They became grandparents to eight very interesting new people, traveled the world on those Cunard ships, attended theater and symphony performances, summered in Maine, wintered on Marco Island and delighted in their good fortune to find and enjoy one another at last.
He liked to say about Donna, "Boy, did I land on my feet or what?"
After closing his private practice in 1993, Dr. Leahy became Medical Director of Tufts Health Plan, and served in that role until 2001. Along the way he leaned in to Forensic Medicine, which had intrigued him for years. He became a State Medical Examiner in 1978 and was President of the Massachusetts Medical-Legal Society from 1994 – 2001. He worked until he became ill last year, shepherding a new generation of physicians and leaders along, including Chief Medical Examiner Dr. Mindy Hull, a protégé and friend, who recently presented him with a Commendation from the Governor of Massachusetts honoring his contributions to the field.
The Investigative Unit of the MA Medical Examiner's office will be named in Dr. Leahy's honor.
He had very warm hands and a great roar of a laugh. He thought it was ridiculous to wear an overcoat, even in New England winters, "if you're just getting in and out of the car." He had no patience for elevators and took the stairs two at a time. He was stubborn and prickly, but soft and deeply sentimental. He was frugal and practical, but all in for a bit of luxury: He loved lamb with rosemary, Irish sausages, and a square of chocolate after dinner. He hovered around acquiring a bottle green Jaguar Sedan, but never pulled the trigger. He liked giving the women in his life jewelry and pressing cash into the hands of his grandchildren. At his first chemo appointment, when a nurse asked "Can I get you anything?" he answered, "I'd love a Manhattan."
In addition to his wife and children, Dr. Leahy is survived by his grandchildren, Olivia and Leo Ruckenstein of Brookline, MA, Anastasia and Frances Leahy of Brooklyn NY, and Hugh and Linus Carey of Portland, ME. His insistence on being addressed as "Grandfather" led to eye-rolls when the first grandchild arrived but now we can't imagine him by any other name. He also considered his wife's grandchildren, Anthony and Sophia Loricco, of Holliston, MA, his own.
He is also survived by and was loved by his children's partners, Andrei, Nina, and Mike, by Donna's daughters, Dina and Jennie and their partners Stacey and Tom, by the loving community of Little Diamond Island, and by his treasured friend and unofficial third daughter, Jeanne O'Brien of Milton, MA.
He was cared for with respect, collegiality, and warmth throughout his illness by his Internist, Dr. Mark Ostrem, by Dr. Ann LaCasce and Dr. Laskshmi Nayak at Dana Farber, and by numerous nurses at the Brigham Hospital, who were charmed by the way he always made a point of asking them about their lives.
Dr. Leahy and his wife have been generous supporters of numerous charities, and ask that donations in his name be made to The Pine Street Inn.
There will be a gathering at Dolan Funeral Home, 460 Granite Avenue, EAST MILTON SQUARE, Sunday, March 1st, with visiting beginning at 12 Noon and a service at 2:30PM.
Later this summer his family will host a celebration of his life on his beloved Little Diamond Island.