Patricia M. McLaughlin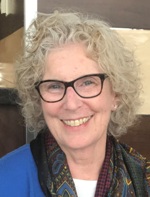 Patricia M. McLaughlin, of Milton, died Saturday February 1, 2020.
She was born in Boston, MA on February 21, 1948 to Patricia (O'Meara) McLaughlin and William Joseph McLaughlin, Jr. Eldest of eight children, she grew up in Milton and graduated from Milton High School, class of 1966.
She was in the second inaugural class of UMass, Boston which began in the Boston Gas building in Park Square and was affectionately called UMass Gas by the students. She graduated with Honors in 1970.
She married Thomas F. Hutchinson in 1969 and they had two children, Thomas Francis and Rachel Rose. Patricia was part of a large Irish Catholic family, the first grandchild, and grew up surrounded by multiple generations of family. She learned from birth how to be the strong, loving, wonderful person she became. She worked in the publishing field first as an editor, then doing the design and layout of books and journals.
Pat graduated from the Cordon Bleu in Cambridge and worked as a pastry chef at a bakery in Cambridge and in corporate dining rooms in Boston. From 2001 to the present she worked at the Harvard Kennedy School. She began working for Dr. John Holdren as his assistant in the Belfer Center. In 2009 when Dr. Holdren was appointed White House Science Advisor to President Obama, she went with him and worked for one year in the White House. She received the Harvard Hero Award, an award recognizing outstanding employees at Harvard University.
She loved to travel and had many adventures. And she supported the many adventures of her children and their friends who she loved as well. In particular by swooping into Boston late Friday and Saturday nights to pick them up somewhere in her beloved Suburban known as "The Burba"! "Discretion is the better part of Valor" was her only advice she reminded them all of frequently.
She was generous, independent, articulate, quick witted and thoughtful. She made lifelong friends. She learned all the family stories and honored the family traditions and memories. She was a consummate storyteller with a keen sense of irony. She was creative and loved cooking, knitting, weaving and embroidery. She loved reading, especially mysteries. She loved all creatures, always had at least one dog and cat at home, and volunteered for many years at the Milton Animal Shelter spending every Sunday morning visiting the cats and cleaning their cages. She turned her front yard into a sanctuary for bees, birds and butterflies.
Above all she loved her family, her children Tommy and Rachel, her daughter-in-law Lynne and her most beloved granddaughters Madeline and Emily, who affectionately referred to her as B Mamma. She cherished every moment with them and would take Monday's off in the summer so they could go on adventures together to the beach or a pool or just sit in her hammock and eat popsicles.
Spending time with them was her greatest joy.
In addition to her children and grandchildren she is survived by her sisters, Ann, Elizabeth, Barbara, Mary and Sheilah and her brother Daniel, her sister-in-law Jeanne McLaughlin, and her brothers-in-law Jerry Aronson, Dan Tarpey and Chip Henry. She was predeceased by her sister Meghan. She also leaves behind many loving nephews and nieces, grand nephews and nieces, cousins and her beloved Aunt Helen O'Meara.
There is a hole in the heart of the world with her passing.
A Mass of Christian Burial will be celebrated in Saint Agatha Church, Adams Street at Brook Road, Milton, Monday February 10 at 10:30 AM. Relatives and friends invited. Visiting hours at Dolan Funeral Home, 460 Granite Avenue, EAST MILTON SQUARE, Sunday 2-6 PM. Interment Milton Cemetery.
Donations in Pat's memory may be made to The Milton Animal League, 181 Governor Stoughton Lane, Milton, MA 02186.