Mary Ellen Egan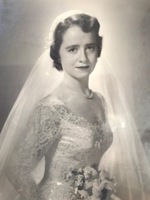 Mary Ellen "Marlen" Egan, of Milton, MA.; age 91, loving mother of 8, dedicated wife, sister, grandmother, and great grandmother reunited with her husband Bob, of 63 years in heaven on February 8, 2020. Born September 23, 1928, to Dr. Frederick J. Gillis Ph.D. and Ellen (Russell) Gillis of West Roxbury, MA and married on June 12, 1954, to Dr. Robert W. Egan MD. of Jamaica Plain, MA.
1950 Graduate of Sargent College of Boston University, Bachelor's Degree in Health and Education. Survived by her caring children, Mary-Ellen Curry of Severna Park, MD; Robert W. Egan Jr. of Hanover, MA; John F. Egan of Moretown, VT; Suzanne Rader of Winchendon MA; Daniel R. Egan of Thornton, NH; Edmund J. (Ned) Egan of Tahoe City, CA; and Michael J. Egan of Kingfield, ME.
Her infant son, Daniel E. Egan, preceded Marlen in death along with her brothers Daniel E. Gillis (Twin) of West Roxbury, Fredrick Gillis of West Roxbury, William Gillis of Dover, NH; Joseph Gillis of Milton MA; David Gillis of Norfolk, MA. She had 14 loving grandchildren, and three adored great-grandchildren.
Marlen's twin brother Danny introduced her to Bob Egan in 1946, and they attended the High School Prom together and married eight years later. Danny, a pilot, was lost at sea in a Navy training mission for the Korean War on November 27, 1950.
Affectionately called Auntie Marlen, she had 26 nieces and nephews, and the clan gathered religiously around holidays and birthdays. The Egan/Gillis is a tight-knit clan with strong generational history and belief in faith, military service, education, and caring for others. The family's reach extends from Military Officers, University and College Professors, Religious Leaders, Doctors and Nurses, Teachers, Farmers, Corporate Executives, Business Owners, Lawyers, Professional Athletes, Public Servants, and Civic Leaders.
Hailed Mrs. Egan by her children's childhood friends in both West Roxbury, MA. and later in Milton, MA., The Egan house was a favorite stop for treats, games, celebrations, and refreshments. The favorites were homemade root beer, ZaRex, cakes, and cookies. She attended countless PTA meetings provided rides to youth sporting events for teams, hosted Boy Scout, Cub Scout, and Girls Scout weekly meetings as well as parent-teacher conferences and occasional calls to the Schools Principal Offices.
Marlen, a silent saint, was dedicated to her faith and community. She cared for and provided eldercare for countless relatives, including her parents, aunts, friends, family, and late husband, Robert. A confidant to many, she was trusted, true to her word, organized, demanded respect, manners, and proper conduct, and had high expectations of others. She also had a green thumb and loved to garden, ski, card games, books, puzzles and was an avid quilter.
A Mass of Christian Burial will be celebrated at St Mary of the Hills Church, 29 St. Mary's Rd, Milton Saturday, February 15, at 10:00 AM.  Visiting hours at Dolan Funeral Home, 460 Granite Avenue, EAST MILTON SQUARE, Friday, February 14, 4-8 pm.
In lieu of flowers, donations can be made to the Milton Council of Aging, 10 Walnut St, Milton, MA 02186.