Susan L. Monack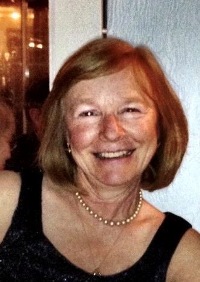 Susan Wells Lawrence Monack, of Mashpee and formerly of Milton, died on January 25th from Alzheimer's disease.
Susan was the beloved wife of Donald R. Monack, and the devoted mother of Julia W. McLetchie and her husband Chip of Winchester, and the late Gregory B. Monack. She was the loving Grandmother of Cecelia (Cece), Charles (Charlie) and Gracie, all of Winchester. Sister of Jeffrey Lawrence and his wife Cindy of Bethel, CT.  Daughter-in law of Donald A. Monack and sister-in-law to Jeffrey and Susan Monack, all of Branford, CT, and sister-in-law to Robert and Angelina Monack of East Haven, CT. Susan is also survived by cousins, nieces, nephews, and many friends.
Susan was born on June 20, 1950 in Stamford, CT, to the late Donald and Anne (Carpenter) Lawrence. She was raised in Stratford, CT and graduated from the Northfield School for Girls (now Northfield Mount Herman) in 1968. She obtained a bachelor's degree in Sociology from Connecticut College in 1972, and later earned a Masters in Social Work from the University of Connecticut as well as a Masters Degree in Management of Human Services from Brandeis University. Susan cared deeply for others. During her career she held many roles in the human services and social work fields, including at the Visiting Nurses Association and the Department of Elder Affairs. Susan loved music and had a beautiful voice, which she put to good use performing as a longtime member of the Dedham Choral Society. Susan was active in the Milton community and in the First Parish Unitarian Church, of which she was a longtime member.
Susan and Donald were married in 1973, and traveled through all of the ups and downs of life together for the next 46 years, including raising two children together and supporting each other through the loss of their beloved son in 2003. In recent years, Susan's favorite way to spend her time was in the company of her grandchildren, who brought her great joy. Susan was a loving, generous friend and she opened her home and her heart to others freely. She will be greatly missed.
Friends and family are invited to visiting hours in Dolan Funeral Home, 460 Granite Ave., EAST MILTON SQUARE, Wednesday, January 29th from 4-7 pm. Funeral Service at First Parish of Milton (Unitarian), 535 Canton Ave., Milton on Thursday, January 30, at 11 o'clock. Interment at Milton Cemetery and reception to follow.
In lieu of flowers, donations in Susan's memory may be sent to either the Alzheimer's Association, 309 Waverley Oaks Rd, Waltham, MA 02452, or to the Gregory Monack Memorial Fund, c/o Noble and Greenough School, 10 Campus Drive, Dedham, MA 02026.