Peter E. Massad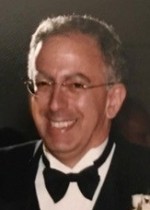 Peter E. Massad of Milton, MA died 62 years young on Saturday January 18, 2020.
Peter was born in Somerset, MA on August 14, 1957 to Edmond Massad and Minnie (Borje) Massad. He graduated with a bachelor's degree from University of Rhode Island, a Master of Public Health from Boston University and a Doctorate of Pharmacy from the University of Arkansas. He worked as a Senior Medical Science Liaison for Bausch and Lomb.
He is survived by his wife Melissa Massad; his daughter, Madison Massad; his sister Adele Cabral; several adoring nieces and nephews; and a close-knit crew of family-friends who celebrated life with him.
Peter's marriage to Melissa was the definition of true love. His support and love for his wife and daughter was unwavering and evident to everyone around them. Melissa and Madison were the lights of his life.
Peter preferred to be active and had many hobbies. He enjoyed every special moment shared with his daughter. Peter loved animals, enjoyed breeding tropical fish, and was a member of the New England Aquarium Society. He was an avid gardener, antique car enthusiast, enjoyed sailing and traveling with his "crew". Peter proudly served with Romanian Children's relief.
Peter was a gentle, one of a kind man, who was well liked by all who knew him. He will be deeply missed. The remembrance of joys shared are many. You will be missed gentle man, you made everything better.
Memorial visitation at Dolan Funeral Home, 460 Granite Avenue, EAST MILTON SQUARE, Thursday, January 23, 2020 from 4:00-6:30 PM.
In lieu of flowers, donations may be made to the Milton Animal Shelter in his honor. Please make payable to Milton Animal League, 181 Governor Stoughton Lane, Milton, MA 02186.