Marjorie E. Manley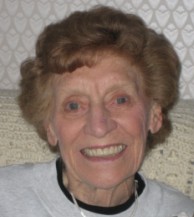 Marjorie (Wigandt) Gallant Manley, age 92, of Dorchester and Braintree passed away peacefully on January 5, 2020. Marjorie, born February 15, 1927 in Boston, Massachusetts, was the daughter of the late Gertrude M (Firnrohr) and Lawrence P Wigandt.
After graduating from Dorchester High School for Girls in 1945, Marjorie began a career as a dental technician at Axelrod Dental Laboratory where she met her future husband the late Peter A. Gallant.
Marjorie and Peter were married on June 30, 1948, made their home in Dorchester sharing 41 years together—passing on the same exact date, 31 years apart.
Devoted mother of Paul Gallant and his wife Dorothy of Norton, Susan Watson and her late husband Larry Watson of Texas, Donna Cunio and her husband Richard of Norwell and Jo-Anne Cammorata and her husband Andrew of Hanover.
Sister of Natalie Galaway of Minnesota, Ruth Hewson of Braintree and the late Gladys Killam and Lawrence Wigandt.
A dedicated Nana to 14 grandchildren and 11 great grandchildren.
A woman of many talents, Marjorie was a member of the Viking Club, a graceful ballroom dancer and in her 70's a performer with the Tender Tappers. She was active in New Beginnings, the South Shore Widow and Widowers Group, the First Congregational Church of East Milton, the First Baptist Church of Dorchester and past President of their Alpha Guild. Marjorie was an accomplished seamstress who took great pride in her home. She was a loving caregiver, a born nurturer, who loved to knit, crochet and garden. Marjorie loved to feed people. She will be remembered for her many delicious cookie recipes that will be passed down to future generations. She was known for her healthy appetite and her special love of lobster!
In 2000 Marjorie married William F. Manley and moved to Braintree. Marge and Bill enjoyed many years together traveling and spending time with their combined families until illness separated them.
Funeral Service in the East Congregational Church, 610 Adams St. Milton, Friday, January 10 at 11 O'clock. Visiting Hours in the Dolan Funeral Home 460 Granite Ave., EAST MILTON SQUARE, Thursday 5-8 pm. Interment Blue Hill Cemetery, Braintree.
If desired contributions in Marjorie's name may be sent to the charity of your choice.