Patricia L. Spring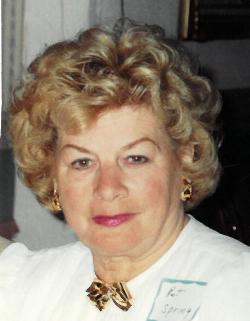 Patricia L. (Tynan), Spring Age 88, passed away peacefully on Sunday, December 8, 2019.
She was the devoted wife of the late Philip S. Spring and loving mother of her five children, Ellen, Philip, Susan, Jane, and David, as well as a doting grandmother to her six grandchildren, William, Michael, Perry, Emma, Martin, and Bradford.
Born in South Boston, Mass. to Dr. Joseph P. Tynan and Katherine G. Tynan (Tivnan) in 1931, Patricia was the beloved sister to John "Doc", Sabina, Kevin, and Emmett Tynan. She attended St. Brigid's Catholic School, Notre Dame Academy, and Boston State College, until she married Philip Spring in 1951 and moved to Quincy, Mass., where she lived for sixty-five years.
She fully enjoyed life and was involved in many social clubs, including the St. Ann's Mariannes, Wollaston Mothers' Club, Squantum Yacht Club, and Southern Artery Writing Club. She taught CCD, and belonged to the YMCA, where she enjoyed swimming and aerobic exercise.
Patricia loved her garden and her pets, and was an avid Patriots fan, never missing a game. She had a love of classic movies, Jeopardy, and crossword puzzles. Her favorite pastime was singing and dancing, whether in a charity fundraising variety show, or out at a Saturday night dance. Pat loved to be the life of the party, always joking and sharing funny stories. She will be deeply missed by all who knew her.
A Mass of Christian Burial will be celebrated in St Ann's Church, Quincy, Monday, December 16, at 10:30 am. Visiting Hours in the Dolan Funeral Home, 460 Granite Ave., EAST MILTON SQUARE, Sunday 2-5 pm. Interment Pine Hill Cemetery, Quincy.
If desired contributions in Patricia's name may be sent to the American Cancer Society-Boston, 125 S. Huntington Ave, Boston, MA 02130.