Audrey M. Stevens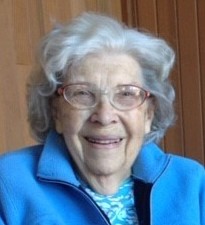 Audrey (Munch) Stevens, entered into rest on December 15, 2019 at age 96.
Beloved wife of the late Robert H. Stevens. Devoted mother of Jeffrey L. Stevens of Milton and Janet H. Stevens of Quincy.  Sister of the late Helen Pagel and Herbert Munch.
Audrey worked at the UUA Headquarters in Boston and gave up her career to raise her family. In her later years, she was a baker and manager of the Milton High School cafeteria. She met her husband Robert at Parkway Community Church where they were active members for many years. Together they shared a love of music, dancing, and a strong sense of community service. She was the program chair for 38 years in the Milton Women's PM club, a tour docent at Quincy United First Parish Church – the Church of the Presidents and member of the Viking Club. Audrey was an extraordinary woman of many talents who opened her home to all. She will be remembered as a kind and caring person, known for her strong ties to her Danish family and heritage. She maintained her grace, strength and kindness right up to the end of her final moments in life.
Funeral Service in Dolan Funeral Home, 460 Granite Avenue, EAST MILTON SQUARE, Thursday, December 19 at 5 pm. Visiting hours Thursday, 2-5 pm. Interment Private.
In lieu of flowers donations in Audrey's name may be sent to Arthritis Foundation, 29 Crafts St., Suite 100, Newton, MA 02458.