Anna F. Crowe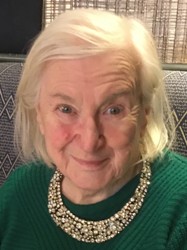 Anna Frances (Dyer) Crowe, of Dorchester, born in Tubbercurry, Co. Sligo, Ireland, died Friday December 27, 2019.
Affectionately known as Ann or Nan by friends and relatives, she was 91 years young. Ann worked as a domestic when she arrived in the USA at age 18. She met her husband Bill while employed as an elevator operator at Boston Gas Company. She enjoyed working as a medical secretary at Carney Hospital. She was a longtime member of Saint Gregory the Great parish in Dorchester. She loved the Pope, her family and her home country of Ireland. Her Sunday dinners were legendary.
Beloved wife of the late William T. Crowe. Devoted mother of Catherine A. Harrington and her fiancé Gregory Speicher of Holbrook, Thomas W. Crowe of Canton, John J. Crowe and his wife Tammy of Merrimack, NH and Mary J. Crowe of Dorchester. Loving grandmother of the late Anthony W. Crowe. Proud Great Nana to Miles (Crowe) Curtis, Salvatore (Crowe) Curtis and Eleanor (Crowe) Curtis of Canton, MA.
A Mass of Christian Burial will be celebrated in St. Gregory Church, 2215 Dorchester Avenue, Dorchester, Friday, January 3 at 10:00 am. Visiting hours at Dolan Funeral Home, 1140 Washington Street, DORCHESTER LOWER MILLS, Thursday, 4-7 pm. Interment Cedar Grove Cemetery, Dorchester.
If desired contributions in Ann's memory may be sent to St Gregory's Church, 2215 Dorchester Ave., Dorchester, MA 02124.