Alice C. Redgate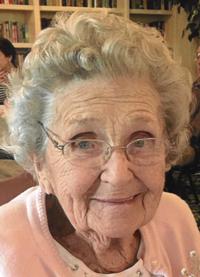 Alice C. (Donohue) Redgate, of Dorchester, died November 30, at Hancock Park Nursing Home, Quincy, at the age of 96.
Alice was a Telephone Operator for over 20 years and was a member of the Telephone Pioneers. She also volunteered for Catholic Charities as a "friendly visitor" for over 25 years.
Alice was the devoted wife of the late Robert Redgate. Beloved mother of Pamela Redgate of Dorchester, Alison Connolly and her husband John of Sandwich and the late Robert "Bobby" Redgate. Sister of Ellen Butler of Hanson and Richard Donohue "Dickie" and his wife Rita of Quincy, and the late Ruth Hart and George Donohue. Grandmother of Alyssa, Hilary, Brendan, Vanessa, Alex and Joseph. Great Grandmother of Thomas, Rory, Quinn, Brennan, Casey and Ruth.
A Mass of Christian Burial will be celebrated in St Christopher Church, 265 Mount Vernon St., Dorchester, Thursday at 10 o'clock. Visitation at the church 9:30 – 10 am. Interment private.
In lieu of flowers donations in Alice's name may be sent to Hancock Park Memorial Fund, 164 Parkingway, Quincy, MA 02169.