Thomas Patrick Riordan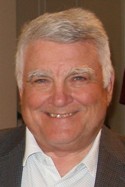 Thomas P. Riordan of Milton passed away peacefully on November 9, 2019 surrounded by his loving family following a courageous battle with cancer. Beloved husband of Germaine (Vallely) Riordan, devoted father of Sean and his wife Jacqueline, Gillian, and Monica of Boston.
He was the loving son of John and Mary (Concannon) Riordan, brother of Edward of Mashpee, Dennis of South Carolina, John of North Carolina, Margaret and Kathleen of Milton, and Maryanne Ridge of Hanover; brother-in-law of Gary Vallely of Sharon, Joseph Vallely of Jamaica Plain, Bernadette Vallely of Needham and preceded in death by Anne Kaminsky of Nashua. Additionally, he leaves many adoring nieces and nephews.
Tom is a graduate of Boston College 1970, where he was captain of the Golf team. He went on to be the club professional at New Seabury GC where he worked for twelve years. He left the golf profession to pursue a successful career in sales with Izod Lacoste and relocated to New Orleans where he lived for seven years and made many dear friends before returning to Boston. He later began his own sales and marketing company, The Riordan Group.
Tom was a former member of Wollaston GC in Milton where he started as a caddie, New Seabury GC of Mashpee, Metairie CC of New Orleans and current member of Milton Hoosic Club of Canton and The St. Andrews GC of Scotland. He leaves a lasting legacy in the golf trips that he organized to Ireland and Scotland with his band of brothers, The Wild Colonial Boys.
A Francis Ouimet Scholar and Board Member, Tom was honored in March 2019 as the Richard F. Connelly, Jr. Award recipient for Distinguished Service. His friends and family later helped raise an endowed scholarship in his name.
Tom had a passion for people and touched the life of every person he met. He will be forever remembered for his gregarious personality, his enormous generosity and for his devotion to his family and friends.
A Mass of Christian Burial will be celebrated in Saint Mary of the Hills Church, 29 Saint Mary's Road, Milton, Friday, November 15, 2019 @ 10:00 AM. Family and friends invited. Visiting hours at the Dolan Funeral Home, 460 Granite Avenue, EAST MILTON SQUARE, Thursday, November 14th from 4-8 PM. Interment Milton Cemetery.
In lieu of flowers, donations may be made to the Francis Ouimet Scholarship Fund, Riordan Family Endowed Scholarship at 300 Arnold Palmer Blvd., Norton, MA 02766 or via www.ouimet.org.