Natalia M. (Zanolo) Cullen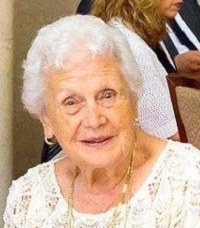 Natalia "Lea" M. (Zanolo) Cullen, 87, of Milton, passed away on Friday, November 15, 2019.
Beloved wife of the late John J. Cullen. Loving mother of Margaret Walsh and her husband Michael of Hanover, Joanne Cullen and her husband Steven Murphy of Kingston, Joseph Cullen and his wife Theresa of Holbrook, Edward Cullen and his wife Ella of Hanover, and Peter Cullen of Quincy. Cherished grandmother of Delaney, Zoe, Ryan, Colin, Lucy, Audrey, Maximus, Marcus, and Julia Grace. Expecting great grandmother of Wayne IV, Sister-in-law of Mary June Cullen of Binghamton, NY. Also survived by many nieces, nephews, and her family in Italy.
Lea was born the only child to her loving parents, Natale, and Pierina Celeste (Pongione) Zanolo, on September 25, 1932, in Canton Massachusetts. Her family traveled and resided between Gattinara Italy and Canton for many years.
She graduated from Saint John's High School in Canton with the class of 1949. Lea went to work for New England Telephone Company and continued her education earning associate degrees in accounting from Bentley School of Accounting and in Electrical Engineering from Northeastern University. She also earned an associate degree in English. She was a life-long learner and took many courses throughout her career and life and earned many accolades at work.
Lea met the love of her life, John J. Cullen of Milton, MA, marrying in 1963 and moving to John's childhood home in Milton. Together they enjoyed family camping and canoe trips and extended family gatherings. She had a passion for finding a bargain and could be found many a day exploring local yard sales. A devoted catholic, she taught CCD, led prayer service and was a member of the Parish Council at Saint Elizabeth Church for many years. Also, she was an active member of the Milton Firefighter's Wives' Association.
Later in life, she began a second career at Metropolitan Telephone Company, retiring 1997, working part-time for Sullivan and Sons, Insurance Agency in Milton, Ma – finally retiring in 2007. She helped to raise her many grandchildren and enjoyed participating in their many activities. Moving to Winter Valley in 2009, she became an active member of the community serving on the Milton Council of the Aging.
A Mass of Christian Burial will be celebrated at Saint Elizabeth Church, 350 Reedsdale Road, Milton, Wednesday, November 20 at 10:00 AM. Relatives and friends invited. Visiting hours at Dolan Funeral Home, 460 Granite Avenue, EAST MILTON SQUARE, Tuesday 4-8 PM. Interment Milton Cemetery.
In lieu of flowers, memorial donations may be made in Lea's name, in honor of her granddaughter Julia Grace, to Massachusetts Down Syndrome Congress (MDSC.ORG);