Margaret Wells Batchelder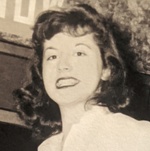 Margaret Wells Batchelder, of Milton, passed away on November 25 at the Marina Bay Nursing Home in Quincy.  She was 96.
Known by family and friends as "Peg" or "Peggy," she was loved by all for her warmth, wit, keen intellect, gourmet cooking and joie de vivre.
While her five children were her greatest joy, she was a woman of many accomplishments. A graduate of Milton High School, she was a true artist and spent years as a fashion illustrator in advertising, and also was the creator of visually striking window displays for Boston's major department stores. A former fashion model, she made her own line of children's clothing called "A Lynn Original," saying she was only seven when she sewed her first dress— and without a pattern. A longtime member of the Sweet Adelines, she designed their distinctive costumes and could sing "On the Sunny Side of the Street" in perfect pitch.
Peggy was preceded in death by her dear daughter Deborah Ware Walker, husband of 25 years Edward P. Batchelder, and her three siblings, Edward M. Wells, Patricia Thornton, and Joan McCormack, all of whom as the eldest she loved devotedly.
She is survived by her sons Terence Wells Lynn (Jane) of Scituate; F. Gregory Lynn (Bonnie) of Phoenix, AZ; and Christopher Lynn (Lassina) of Long Island City, NY, and her daughter Tracy Lynn Tierney (Robert) of Richmond, Virginia, along with many wonderful grandchildren, great-grandchildren, nieces, and nephews.
The family wishes to thank the nurses at Marina Bay for the care and comfort they provided our beloved mother in her later years. A Celebration of Life will be held at a later date.
Dolan Funeral Home and Cremation Services assisted the family with funeral arrangements.