Leonard C. Jackson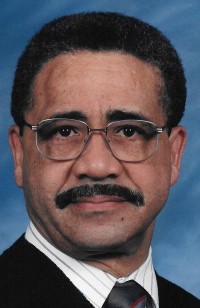 Leonard Courtney Jackson, dearest husband of 51 years to Murleen F. (Greene) Jackson of Boston, died on November 19, 2019 in Roslindale, Massachusetts after a lengthy illness.
Born April 21, 1941, Len was the middle child of Millicent (Hines) Jackson and John Jackson, and the brother of John Ronald (Ronnie) Jackson and Robert (Bobby) Jackson. All of his family have preceded him in death.
Len grew up in Roxbury, Massachusetts. After graduating from Boston English High School, Len enlisted in the Army and served in South Korea. Upon his re­turn, Len worked for Boston Edison until he was accepted at Northeastern University — becoming the first member of his family to attend college — and then to Northeastern University School of Law. After passing the bar, Len worked for the Law Office of James D. Casey as a general attorney for Liberty Mutual Insurance Company, where he represented individual and corporate clients in general liability and Massachusetts Workers' Compensation. In this role, Len's successful defense of radiation exposure death cases had major national ramifications. Although groomed to take over the practice, destiny had other plans for Len. His crowning career achievement was becoming a Massachusetts Department of Industrial Accidents' administrative judge, where he adjudicated physical and emotional personal injury cases. Years later, Len went on to private practice, handling general civil and non-capital criminal law.
Len was a member of the Massachusetts Black Lawyers Association, the Massachusetts Bar Association and the Boston Bar Association. Some of Len's many civic activities included mentoring in the Boston Public High Schools' Urban Scholars program, protecting the rights of special needs children in the Education Advocate Program, and co-developing and operating a Black Achiever Linkage outreach program that provided diversity exposure, mentoring, tutoring and developmental services to children in the Greater Boston elementary school system. He also was an Advisory Board member for the Town of Norwell and a member of the Norwell Men's Club.
Among his many loves were God, his family, church, classical music, airplanes, fishing and photography. Len was also a passionate and inventive cook who never made the same thing twice because he was constantly improving his recipes for better (or worse). Len is survived by his wife and extended family. He will be remembered and sorely missed.
Friends and family are invited to celebrate Len on Tuesday, November 26, 2019 in the Dolan Funeral Home, 1140 Washington Street, Dorchester Lower Mills. Visitation begins at 9 am and will be followed by a service at 10am. Interment is at 2 pm at Massachusetts National Cemetery, Connery Avenue, Bourne, Massachusetts.
In lieu of flowers, donations in Len's memory may be made to the Alzheimer's Association at www.alz.org.