John F. McConville, M.D.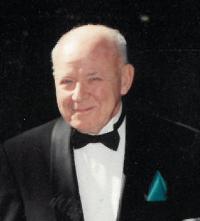 John F. McConville, M.D., Retired orthopedic surgeon, died peacefully surrounded by his family on June 17, 2019. He was 92.
Dr. McConville practiced at the Carney and South Shore Hospitals. He served as Chief of Orthopedic Surgery and President of the Medical Staff during his career at the South Shore Hospital. He was a member of the Norfolk South Medical Society, the New England Orthopedic Society and the Massachusetts Medical Society.
Raised in North Dighton, he was the devoted son of the late Harry and Ellen McConville. He was the loving brother of the late Robert S. McConville.
He was a graduate of Coyle High School, Boston College and Tufts University School of Medicine.
John was an avid reader and maintained a lifelong interest in history. He enjoyed attending the Civil War discussion group at the Captain Forbes Museum. He was a member of the Milton Historical Society. He may be best remembered for his warmth, sense of humor, wit, and keen intellect. He enjoyed lifelong friendships with many people.
John was the devoted husband of Hertha for 63 years. Affectionately known as "Da", he was the loving father of John, Mary, Owen and his wife Katherine, Alicia and her husband Richard, Christine, Luke and his wife Katelyn, Kathryn and her husband John, Julie, Elizabeth and her husband Seth, and the late Ellen.
He was the loving grandfather of Helen Corcoran, Michael, Julie, Meghan and Max McConville, Richard, Louise and William Gedney, Luke, Eleanor, Henry and Charles McConville, John, Charlotte, Christine, Thomas and George Flatley, Robert and Peter Dixon and John Chandler.
He will be greatly missed by all who knew him. His family held a private Mass this summer.