Charles E. "Charlie" Carroll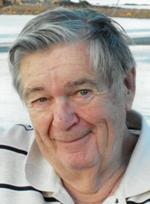 Charles E. "Charlie" Carroll of Dorchester, currently of Braintree died on November 19, 2019.  Beloved husband for 62 Years of Teresa (FitzGerald) Carroll of Braintree.  Loving father of James J. Carroll of Back Bay, Boston, Judith A. Carroll of Arlington, Charles E. Carroll, Jr. of Fitzwilliam, NH, Teresa M. Walsh and her husband James of Braintree, William S. Carroll and his wife Sarah of Dedham and Ann Louise Mercer and her husband Daniel of Dedham.  Brother of the late Mary Colburn, John F. Carroll, James "Joe" Carroll, Catherine Cahalane and Ann Louise Carroll.  Brother in Law to Phan Carroll, Linda and Joe McCabe and Fayth Hughes.  Cherished grandfather of Jake Haveles, Paula Carroll, Christopher, Stephen, Chloe and Clint Walsh, Elizabeth and Nicholas Carroll, Jillian, Julia and Colleen Mercer.  Great-grandfather of Cara and Francesca Walsh.  Charlie is also survived by many nieces, nephews and close friends.
Charlie was born, raised and educated in Dorchester. He was a dedicated employee of the MBTA for over 30 years before retiring. Charlie traveled extensively with his wife Terry, Hawaii being one of his all-time favorites. He enjoyed reading, cooking, gardening, animals and was a huge history buff. He was a member of the Boston Carmen's Union 589 and was a United States Army Veteran. Most of all Charlie adored his family who were truly the most important aspect of his life. He will be sorely missed by all who had the pleasure to have known and loved him.
Mass of Christian burial will be celebrated on Monday November 25, 2019 at 10:00am in Saint Gregory Church, 2215 Dorchester Avenue, Dorchester. Relatives and friends invited. Visiting hours on Sunday 1:00PM-5:00PM in the Dolan Funeral Home, 460 Granite Avenue, EAST MILTON SQUARE. Interment in New Calvary Cemetery, Boston.