Milliadaire J. Syverian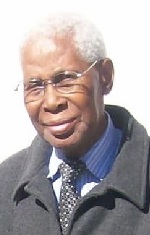 Milliadaire Joseph Syverain died October 1, 2019, at the age of 92. He was the son of the late Dufrene Syverain and Bernadette Boncoeur Syverain.
He was born in Cayes-Jacmel, Haiti April 7, 1927. He grew up in Haiti and moved to America in May 1970. He worked as a machinist for a military plant during the Vietnam War. Later he worked as a taxi driver. He was shot by a passenger while driving in Florida in late 1982 and spent two months in an intensive care unit at Jackson-Memorial Hospital in Miami. He survived with a tracheostomy tube for his breathing ever since. He kept his enthusiasm for sports, family, friends, and politics. He was married three times.
He was the father of Dr. Jean Etienne Thibaud, Marie Fernande Syverain, Jean Wilfrid Thibaud, Gertha Sanon, Pierre Rock Thibaud, Bernadette Sylverain (deceased), Dr. Milliardaire Syverain Jr, Rose-Marie Chery, Dufresne Syverain, Taryn Jude C. Syverain, Kasseem Syverain, Tracy Jude C. Syverain, and Dr. Fabrice Pascal. In addition, he left behind several nieces, nephews, grandchildren and great-grandchildren, Ulrick Sanon, Mathieu Syverain, Clarajyne Thibaud, Marsha Syverain, Jean-Etienne Thibaud Jr, Johanna Joseph, Josue Thibaud, Berenice Linda Sylverain, Jean-Dykenson Rene, Kisha Syverain, Milliardaire Yves Rashid Kwame Syverain III, Denae Syverain, Wilmico Thibaud, Laeticiah Grace Pascal, Renes Jude Syverain, Sasha Syverain, Marc Syverain, Jacob Anderson Syverain. He left behind sons and daughters-in-Law, Sambois Duperval Rene, Clarele Alcide Thibaud, Yve-Renee Jeremie Syverain, Yole Rochambeau Syverain, and Dr. Tatiana Jean-Francois Pascal.
He was the brother of the late Orica Syverain Constantin and Ilfrene Syverain. He is survived by his sister Princina Syverain Romain. His friends called him Joe, Guèguè, and Dè.
Milliadaire Joseph Syverain worked hard all his life to provide for his family. He believed that education holds the key to true liberty.
His funeral mass was held in Saint Bernadette Catholic Church in Randolph, Massachusetts on October 19, 2019, followed by a reception of his life celebration at Lombardo's in Randolph His body was carried to Haiti and buried in Parc du Souvenir in Tabarres on October 26, 2019.