John W. Erickson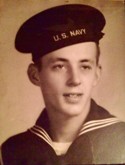 John W. Erickson, age 94, of Quincy, passed away peacefully at his home, Friday October 18, 2019, surrounded by his family.
Born in Quincy to the late Esther and Frederick Erickson, John was a lifelong Quincy resident, a graduate of Quincy Public Schools and retired from the City of Quincy Engineering Department.
Family was always at the center of John's well lived life. He is survived by his beloved wife, Ann (McDonald) Erickson with whom he recently celebrated 64 years of marriage on October 8. Loving father to Susan Paquette and her husband Jeffrey of Marshfield, John Erickson and his wife Carole of Rockland and Nancy Kobayashi and her husband Wesley of Rancho Santa Margarita, CA. Treasured Grampie to 8 grandchildren who cherished every moment spent with him, Courtney Bjorlin (Roy) and Jonathan Paquette (Laura) of Norwell, John Erickson (Heather) of Fairfield, CT, Daniel Erickson of Dallas TX, Kaleigh Erickson of Rockland, Ryan Kobayashi (Krista) of Brookline, Katie Kobayashi and James Kobayashi of Rancho Santa Margarita, CA. Cherished Great Grampie to Luke, Lucy and Joshua Bjorlin, Abigail, Thomas and John Paquette, and Faye and Liliana Erickson. John is also survived by many close family members, nieces, nephews and friends who loved him dearly. He was predeceased by his sisters Winifred Erickson and Jean Demetropoulis.
A man of tremendous Faith, John was a longtime member of St. Mary's Parish, serving as its first Eucharistic Minister and Lector. Gifted with a beautiful voice, he enjoyed sharing his talent as a member of the choir and as a Cantor. He was also a member of The Holy Name Society, twice receiving its "Man of the Year" award from the Archdiocese of Boston.
A member of the Cyril P. Morrissette Post, John proudly served his country in the United States Navy during World War II, stationed in the South Pacific.
John's greatest joy was spending time with his family and friends. His life was a testament to his unwavering kind, caring nature and he will be dearly missed by all who were privileged to know him. An avid gardener, he took great pride in maintaining his beautifully kept yard.
His family would like to acknowledge and thank the extraordinary staff from Old Colony Hospice for their dedicated caregiving.
A Mass of Christian Burial will be celebrated in Saint Mary's Church, 115 Crescent Street, West Quincy, Thursday October 24 at 10:00 AM. Relatives and friends invited. Visiting hours at Dolan Funeral Home, 460 Granite Avenue, EAST MILTON SQUARE, Wednesday 4-8 PM. Interment Saint Mary's Cemetery.
In lieu of flowers, donations in John's name may be sent to Saint Mary's Parish, 757 Hancock St., Quincy, MA 02170