Iona Gillespie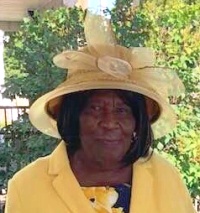 Iona Gillespie was born in Clarendon, Jamaica on September 25th, 1933 to Merdella Graham and Duncan McNeil. Iona was the eldest of 13 children. Her formal education ended at Good Hope primary school in St. Catherine, where she started the university of life, learning skills that would prove most beneficial in later years.
She married her first love Lebert Gillespie and together, they produced thirteen children: Neville (Patsy), Michael (Elaine), Morris, Simone, Junita (deceased), Beresford (Deanery), Elaine (Delroy), Evor (Camille), Annmarie (Neville), Denise (Crosdale), Devon (Tracey), Bruce  (deceased), Warren (deceased) and Dawn. Their large family also included two stepchildren: Stanley and Beverly Gillespie.
When asked about her grandchildren and great-grandchildren, Iona would proudly reply "Like the sands of the sea." She was in fact the proud grandmother to 32 grandchildren, 9 step grandchildren, 45 great grandchildren and 13 step great grandchildren.
She was a dedicated baptized Christian in the Straight Gate Apostolic Church in Jamaica, where she served faithfully for over 50 years.
In August 1995, Iona and her husband migrated to the USA, where she became apart of an even larger family. She was a member of the Pentecostals of Boston church pastored by Rev. Stephen Mack. Iona was a woman of strong faith and wisdom. She lived an exemplary Christian life; she was kind, loving, joyful, gentle, patient, and peaceful. Affectionately called, "mama" or "sister Iona", she was truly a mother figure to many including those she welcomed in the family over the years.
Funeral service in the Pentecostals of Boston, 1205 Hyde Park Avenue, Hyde Park, Saturday, October 26 at 10:00 am. Visitation at the church from 9-10 AM. Visiting hours at Dolan Funeral Home 1140 Washington Street, DORCHESTER LOWER MILLS, Friday 4-8 pm. Interment Forest Hills Cemetery, 95 Forest Hills Avenue, Boston.