Eril Ligonde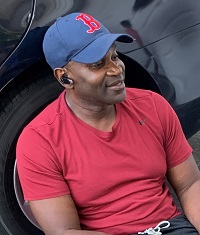 Eril Ligondé, "Nenel", as he was known to family and close friends passed away on September 28, 2019.
Eril was born in Port-au-Prince Haiti on December 13, 1967, to Fenel Ligondé and Micheline Ligondé. He lived in Haiti with his Grandma Vava during his formative years. At the age of 13 Eril came to the States to be with his mom and dad and three siblings. He was the proverbial middle child.
While in Boston, he attended English high school. After graduation, Eril explored many career pursuits including pharmacy technician, volunteer fireman, and correctional officer. He eventually found his calling at the Middlesex County Sherriff's Office where he worked hard and was eventually promoted to Captain. Eril was highly regarded and loved in his community of Lowell where he resided for over 25 years.
Eril was outwardly quiet and reserved, to those not familiar with him. However, among his inner circle, he was known for his hilarious antics and comedy. Eril had a fantastic wit; he enjoyed keeping everyone laughing. He loved life and was not afraid of hard work. He had a passion for home improvement and spent many hours on "Do It Yourself" projects.
Eril was an intelligent, confident, and kind person who had the ability to engage and forge relationships with anyone. He had a wonderful smile that would light up a room. Eril enjoyed helping others, whether it was using his expertise to fix computers, or working on a home improvement project, he was generous with his talents.
Above all, Eril loved his family. His children were by far his proudest achievement. He loved his son Ariel, and cherished his daughter Tatiana. His grandchildren were the apple of his eye, as well as his dear mother, sister and brothers.
Eril is survived by his son, Ariel R. Ligondé of Lynn, and daughter Tatiana Ligondé of Lowell; his step children, Breanna Rowlette and Jordan Rowlette of Lowell; his mother, Micheline E. Ligondé of Boston; his grandchildren, Leo Reinoso of Lynn, Kyrie & Noah Ligondé of Lowell; his brothers Emmanuel Ernest and wife Karine Ernest of Milton and Fenel Ligondé Jr. of Boston; his sister Dr. Myrna Chévry-César of Atlanta; His nephews: Justin Ernest, Malcolm César, Christian Ernest, Benjamin Ernest; his uncle Gerard Pierre; his aunts, Mona Ligondé, Marie Nirva Ligondé, and Gladys Pierre; his cousins Wilhelminda Péralte, Florence Pierre Toussaint, Sagine & Jehnnah Louis along with countless family members and friends.
Eril was preceded in death by his father Fenel Ligondé, and his grandmother Marie Yrva Ernest.
The Achille, Ernest, César, Germain, Larosilière, Lefèvre, Péralte, Pierre, Reinoso, and Toussaint families are painfully touched and deeply saddened by Eril's passing.
Nenel we will miss you and cherish our memories of you forever in our hearts.
A Mass of Christian Burial will be celebrated in St Agatha's Church, Milton, Saturday, October 12, at 10:30 am. Visiting Hours in the Dolan Funeral Home, 1140 Washington St., DORCHESTER LOWER MILLS, Friday, October 11, 5-8 pm. Interment Private.
The family kindly requests that donations in Eril's memory be made to Correctional Peace Officer Foundation, P.O. Box 348390, Sacramento, CA, 95834-8390 in lieu of flowers.