Mary Theresa Sullivan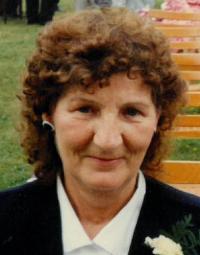 Mary "Theresa" (Mannion) Sullivan, age 87, of Kilbricken Cross, Rosmuc and Ballindooley, Galway, and formerly of Dorchester, September 10, 2019.
Devoted wife of the late Gill Sullivan. Mother of Mary Theresa Sullivan of Stoughton, Cathy Sullivan-Joyce of Stoughton, Gill Sullivan and his wife Linda of Quincy and Carol Ann Sullivan-Mannion of Braintree. Sister of the late Joe Mannion of Braintree, the late Colm Mannion of NJ, the late Eileen Mannion of Rosmuc, Anthony Mannion of Rosmuc, Oliver Mannion of Quincy, Philomena Foy of Milton and Eamonn Mannion of Quincy. Beloved grandmother "Nana" to eight grandchildren, Gill and his wife Sarah, Owen, Nina, Julia, Fionna, Catriona, Alanna and Deirdra and great-grandmother to Gill and Beau. Also survived by many nieces and nephews & grandnieces and grandnephews.
Visiting hours at Dolan Funeral Home, 460 Granite Avenue, EAST MILTON SQUARE, Sunday September 15 from 4-8 PM. Funeral Mass and burial will be in Rosmuc, Co Galway.
In lieu of flowers, donations in Theresa's memory may be made to the Alzheimer's Association, 309 Waverley Oaks Road, Waltham, MA 02452.