Thomas Guevin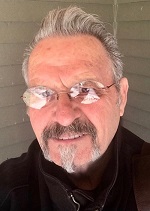 Thomas William Guevin of Dorchester died August 21, 2019, after a brave battle with cancer.
Tom was born in West Springfield, MA. Son of the late Ruth Whitney Guevin Vinette and William John Guevin, Tom lived in Dorchester for the past twenty years, and in South Boston for the previous fourteen. Tom was an accomplished woodworker and artisan who enjoyed challenging projects and making and restoring beautiful things. He loved his family and friends, his home on Ashmont Hill, and his cat Smudge. He had friends from many walks of life, and all over the world. Tom celebrated thirty-one years of sobriety in June and was a powerful example to many seeking recovery worldwide. A consummate prankster, his wild sense of humor was always working to make others laugh and he took pride in his politics of peace, love, and absurdity.
Beloved husband of Christie Guevin of Dorchester, father of sons Eric Thomas Guevin and Nathaniel Zeh Guevin of Dorchester, and daughters Amanda Lee Guevin of Melbourne, FL, and Mariah Grace Guevin Liatt of Northampton, MA, Tom is survived by his sister Mary Elizabeth Bergeron of Pelham, New Hampshire and his brother John Robert Guevin of Vernon, Connecticut as well as many cousins, nieces and nephews.
A Celebration of Life Ceremony will be held Saturday, October 5, 2019, 2:00 PM-4:00PM in the Dolan Funeral Home, 1140 Washington Street, Dorchester Lower Mills. All who knew Tom are welcome. A reception in Tom's honor will follow at Prime Pizza & Grill, 88 Warf Street, Milton, MA 02186.
In lieu of flowers, donations in honor of Tom may be made to American Forests, at americanforests.org.