Roosevelt Hudson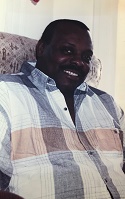 Roosevelt "Roze" Hudson was born on September 22, 1944 from the union of C. D. Hudson and Equilla (Oats) Hudson in Coy, Alabama. He was the fifth of nine children born of that union.
Roze accepted Christ in his life and was baptized at an early age. He was educated in the Mobile County Public School system, where in May 1963, he graduated from Rosa A. Lott High School in Citronelle, Alabama.
Shortly thereafter, Roze followed in the footsteps of his older brothers by migrating north. First to New York, then settling in Boston, which would become his home for the remainder of his life. It was during those early years in Boston in which he had two children, Renard Mason and Shanna Shaw.
For more than 30 years, Roze worked in auto body repair. In 2000, his dream of owning his own repair shop came true. Many considered Roze a "doctor of cars" fixing even the most difficult of collision jobs, making a car appear as though it was brand new from a show room floor. Cars would remain his passion throughout his life, even up until the very end.
In 1982, Roze met his future wife, Nan Lawson. In 1986, their daughter Nicole Renee Hudson was born. The couple united in their lifelong union of marriage on August 7, 1992.
Roosevelt Hudson departed this life on Saturday, August 17th, 2019. He was preceded in death by his parents, C.D. and Equilla Hudson, sister Earlene Hudson, and brothers Calvin Hudson and Walter Hudson.
Roosevelt leaves to cherish his memory: his beloved wife Nan Lawson of Dorchester, MA; Nicole Hudson of Dorchester, MA (daughter); Shanna Shaw of Hyde Park, MA (daughter); Renard Mason of Roxbury, MA (son). Siblings: Lula Hudson of Atlanta, GA; Cora Ann Walker (Cecil) of Mobile, AL; Linda Hudson of Brockton, MA; Bettye Hudson of Brockton MA; James Hudson (Carolyn) of Satsuma, AL. In-laws: the late Joy Jones and Tellis Lawson, Kay Lawson of Dorchester, MA; Shelle Maniscalco (Vito) of Plymouth, MA; Neil Lawson of Middleboro, MA; Beth Allen (Tony) of Canton, MA; Troy Lawson (Stephanie) of Greensboro, NC; and Gil Lawson of Alliance, OH.
Roosevelt also leaves behind a host of extended family and friends to carry on his memory.
Roosevelt also leaves behind a host of extended family and friends. A visiting hour will be held Thursday at 11 AM in the Dolan Funeral Home, 1140 Washington St., DORCHESTER LOWER MILLS, followed by a Funeral Service at 12 noon. Interment private.