Robert Stephen Ghigli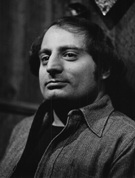 On Saturday, August 24, 2019, Robert S. Ghigli, loving brother, uncle, and friend passed away at the age of 71 after a life of service to others, caring for critically ill patients as a respiratory therapist.
Born in Quincy, Bob was a graduate of Braintree High School, Class of 1967. He proudly served in the US Navy aboard the USS Ingraham participating in Cold War anti-submarine patrols in the North Atlantic. He began his career as a Respiratory Therapist at Carney Hospital in 1974 and worked at Saint Elizabeth Medical Center, Brighton, retiring from Beth Israel Deaconess Hospital – Milton in 2017. He was also a member of the Italian-American Club in Braintree, Ma.
Bob had a passion for the arts, especially films. He had a refined taste for story, character, and language. His movie recommendations were always spot on. Bob also was a discerning judge of quality, always choosing the best of a particular thing he might need, even though he might wait longer to obtain it instead of settling for something of lesser quality that he could obtain sooner. He had a great sense of humor, was kind and compassionate, and he was a great companion for any journey along the Road of Life.
Bob was preceded in death by his mother, Harriet, and his father Robert S. Ghigli Sr. He is survived by his sister, Penny Ghigli Shore and her husband Joseph, of Safety Harbor, Florida, his niece and goddaughter, Aimee McDermott and her husband Kerry, his great nephews, Aidan and Aaron McDermott and his great niece Kayla McDermott, all of Clearwater, Florida. Bob also leaves close friends Kevin and Susan Lilly of Cotuit, Ma, and Charlie and Brenda Burke of Harwich, Ma.
A celebration of Bob's life will be held on Friday September 6th, 2019 at the Massachusetts National Cemetery, Connery Avenue, Bourne at 10:15 AM.
In lieu of flowers, it is requested that donations be made to the giver's favorite charity.