Edward David Roust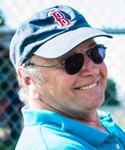 Edward David Roust, 74, of Dorchester passed away suddenly on Sunday, August 11, 2019.
He was the son of Frank and Helen Roust. He is survived by his wife, Kathleen Lenehan Roust, his children: Timothy Edward and Carolyn Barbara Roust, her partner Aviel Ben-Avi, and grandchildren Brian David and Tashi Laelia Ben-Avi. He is predeceased by his son Brian Francis Roust. He is also survived by his sister and brother in law Barbara and Russell Varteresian, and predeceased by his brother and sister in law Paul and Patricia Roust. Other survivors are his sister in laws Maureen McCafferty and Patricia Fitzpatrick, 14 beloved nieces and nephews, and the Fredrick Cruickshank cousins.
Edward started his career as a lineman for New England Telephone, which then became ATT, Lucent Technologies and finally Avaya communications, for whom he worked in Moscow as a Systems Analyst for 8 years. Through this job, he was able to fulfill his dreams of travelling the world. After he retired, he spent the last chapter of his life as an active grandfather to Brian and Tashi, which brought him great joy. He had boundless energy, a wonderful sense of humor, a love for chatting with people and a huge heart.
Visitation will be held at the Dolan Funeral Home, 1140 Washington St., DORCHESTER LOWER MILLS, on Sunday, August 18 at 12PM. A Celebration of Life Service will begin at 1PM at the funeral home. Relatives and friends invited.