Randall Loud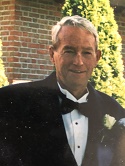 Randall "Randy" Loud, 82, of Milton, passed away peacefully on Monday, July 22 , 2019 following a long battle with Alzheimer's.
Randy was born and raised in Milton where he graduated from Milton High School in 1956. Randy was married to the love of his life Sandra (Wildes) Loud for 45 years.

In 1961, he was drafted into the Army where he was an artillery mechanic, battery recorder as well as a training NCO. Randy owned Berry & Loud Co. in Quincy since 1981. He was an avid golfer and was a member of the Wollaston Golf Club for many years.

Randy is survived by his three children, Mark Loud and his wife JoAnn of Scituate, Christopher Loud of Milton and Kristie and her husband Stephen Celorier of Mashpee. He was a devoted grandfather of Alyssa, Kaelyn, Brianna, John and Matthew as well as other family and friends.

Randy is preceded in death by his wife Sandra Wildes Loud, his parents Earl and S. Margaret Loud and his sister Andrea Collins.

Visiting hours will begin at 5:00pm Tuesday, July 30th in Dolan Funeral Home 460 Granite Avenue, EAST MILTON SQUARE and conclude with a Funeral Home Service at 7:00pm. A private burial will take place in Hope Cemetery, Kennebunk, Maine.
In lieu of flowers memorial donations in honor of Randy may be given to the Alzheimer Association.