Marie Josee J. Ginot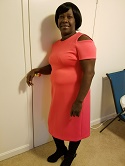 Marie Josee J. Ginot, of Roslindale formerly of Haiti passed away on July 17, 2019. Beloved daughter of Chenet Ginot and Sylvia Orelien of Haiti. Loving mother of Vanessa Elysse of Roslindale. Sister of Edgard Gineau of Everett, Ythanette Philemont of Georgia, Josnel Ginot of Everett, Stevenson Juneau, Marie Ange Juneau, Roselyne Cadet and Shamaina Gineau all of Haiti. Cherished grandma of Amarha Louis.
Marie was born in Croix DesBouquet, Haiti. She had only been in the United States for a year before her passing. Marie was a very faithful person who dedicated much of her time to her prayers. She also loved to cook and spend time with her family, especially her daughter and granddaughter.
Family and friends are invited to attend the viewing on Friday July 26, 2019 from 6:00PM-9:00PM in the Dolan funeral home, 1140 Washington Street, Dorchester Lower Mills. A funeral service will he held on Saturday July 27, 2019 at 9am in The Voice of the Gospel Tabernacle Church, 47-49 Edgewater Drive, Mattapan. Interment in Oak Lawn Cemetery, Boston.