Joseph P. Keohan, Sr.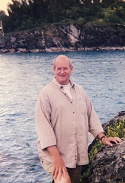 Joseph P. Keohan, Sr, 81, of Norwood passed away on Monday, July 22, 2019.
Born in Boston and raised in Dorchester he was a graduate of the Boston Public Schools. Worked as an Assistant Clerk Magistrate in Suffolk Superior Court for 41 years.
Joseph leaves behind his six children, fourteen grandchildren, four great grandchildren and his best friend Ron McKinley. Beloved son of the late Archie D. and Mary E, (Fitzgerald) Keohan. Loving brother of Barbara A. Hannigan and her husband Thomas F., Archie D. Keohan and the late Edward T. Keohan.
A Celebration of life will be held on Thursday, July 25th from 10:00am to 12:30pm at the Dolan Funeral Home, 460 Granite Ave., EAST MILTON SQUARE; followed by a Funeral Home Service. Interment Milton Cemetery. Family and friends invited.
In lieu of flowers, donations in his memory may be made to Dana-Farber Cancer Institute, P.O. Box 849168, Boston, MA 02284-9168