John J. "Jim" Landers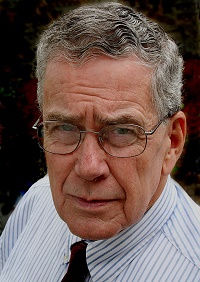 John J. "Jim" Landers Jr., of Milton, MA, a retired award-winning news photographer and licensed private detective, died Saturday, July 13, 2019, following brief illness. He was 82.
Born in Boston and raised in East Milton, he was the son of the late John J. Landers Sr., a former Boston Globe news photographer, and Gertrude V. (Gregory) Landers.
He was a Boston College High School graduate, class of 1954. He earned the Man of the Year Award in 1979 by the Boston College High School Alumni Association during the silver anniversary of the Class of 1954.
In 1960, he married Ann K. (Horgan) Landers and they briefly resided in Natick before returning to Milton.
In 1954-55, he attended Northeastern University while working as a wire photo assistant at the Associated Press' Boston bureau. He then was an editorial assistant at the Boston Traveler before being hired as a staff photographer by the Traveler in 1955. In 1967 he joined the staff of the Boston Record American, and then in 1972 he became a staff photographer for the Boston Herald American. He was promoted from staff photographer to picture editor. Then in 1982, when Rupert Murdock purchased the newspaper in its 11th hour, the paper was rebranded as the Boston Herald and he retained his employment. He retired from the Herald in 2005 after 50 years in the news business as a senior picture editor.
Mr. Landers received numerous professional awards in the field of photography, to include News Photographer of the Year in 1968 awarded by the Boston Press Club and the 1978 Pulitzer Prize as a member of the Boston Herald American team photography coverage of the Blizzard of 1978. He also received the International Fire Fighters Association National Citation in 1972 for coverage of the Hotel Vendome collapse which killed nine Boston Firefighters who where checking hot spots following a fire there the day before. Additionally, he had a photo published in Time magazine of a first responder performing CPR on a toddler while carrying the child to safety.
Living a dual professional life, Mr. Landers worked in the news industry at night, while running his business as a private detective during the day. Mr. Landers was a partner with Landers, Hannon and Burnett in Neponset Circle in Boston for years, before leaving and launching Landers Service Company in Milton in the mid-1970s.
Mr. Landers was an avid tennis player for many years, having played at the former Blue Hills Tennis Club and at the Weymouth Club. He was also a runner, having worn out several treadmills in his basement.
Mr. Landers served in the US Coast Guard Reserve in the Full Mobilization Intelligence Group from 1956- 1962.
In addition to his wife of 58 years, he is survived by his children: Suzanne Landers Zavatsky and her husband S.J. of Milton, John Landers and his wife Kathleen of Hyde Park, and Katherine Landers Keyes and her husband James of Milton. He is also survived by the grandchildren he adored: Michelle Landers of Quincy, Adrah Landers of Hyde Park, Aidan Keyes and Alexandra Zavatsky, both of Milton. He was predeceased in death by his sister Carole Landers Leet, and brothers Thomas E. Landers (retired Boston Globe news photographer) and Philip K. Landers.
A Mass of Christian Burial will be celebrated at St. Agatha's Church, Milton, Thursday, July 18, at 10:30 a.m. Visiting Hours in the Dolan Funeral Home, 460 Granite Ave., EAST MILTON SQUARE, Wednesday 4-7 pm. Interment Milton Cemetery.
In lieu of flowers donations in Jim's memory may be sent to Office for Institutional Advancement, Boston College High School
150 Morrissey Blvd. Boston, MA 02125.