Ida B. Goodman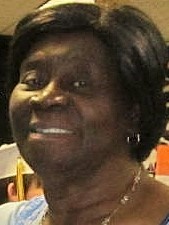 Ida Bell (Jones) Goodman, born on August 12, 1934 in Lake Charles, Louisiana, was the eldest child of Milton Jones and Viola Frederick Jones. Ida received her primary and secondary education at Sacred Heart School in Lake Charles. Shortly after graduating from high school, she moved to Boston, MA. There, she met her beloved husband of 42 years, Guernsey L. Goodman, who preceded her in death.
Ida and Guernsey were the proud parents of four beautiful children, Patrick (Monica), Guernsey Jr. (Lolita), Janene, and Jeanette Goodman-James. Ida worked as a nursing assistant at The New England Medical Center for over 20 years. Throughout her time in Boston, Ida was a faithful member of the Holy Cathedral Church family. Ida became a supportive, devoted friend to many in her work place and church.
Ida was the epitome of a loving, caring grandmother. The delights of her life were her eight grandchildren, Larkin, Chelsea, Faith, Kenneth, Gideon, Peyton, Madison, and Avery. Christmas and birthday celebrations were her hallmark events.
In addition to her children and grandchildren, Ida is survived by sisters, Mildred Richard, Marian Jones, and Shirley Jones-Turner. She was preceded in death by brothers Rubin Leroy (RL) Jones, and Milton Jones, Jr.
A Mass of Christian Burial will be held at Cathedral of the Holy Cross on Saturday, July 6 at 10am. Visitation will be held in the church prior to the Mass at 9am. Interment at Mt. Hope Cemetery. Relatives and friends invited.