Maryse Pierre Vilme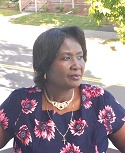 Maryse Pierre Vilmé of Dorchester passed away on June 9, 2019. Beloved wife of Luders Vilmé of Dorchester for 34 years. Loving mother of Samatha Vilmé Evans and her husband Aswad of Holbrook, Luders Vilmé, Jr. and Matthew Vilmé both of Dorchester. Sister of Icaldo Pierre of Florida, Rev. Ronald Pierre of Medford, Marie Chantal Pierre Charles of Canada, Magalie Pierre Castel of New York, Winie Pierre Fadeau of New York. Cherished grandmother of Mason and Amelia Evans of Holbrook.
Maryse was born and raised in Port-au-Prince, Haiti. After coming to the United States, she settled in Dorchester with her husband Luders and raised her family. She was a certified nursing assistant at Carney Hospital for 35 years as well as the Boston Home for 25 years, where she was well respected and loved. Maryse always put others needs above her own, she was always helping and caring for not only her patients but family, friends and who ever needed a helping hand. She loved to cook, dance and tend to her garden. Maryse was truly a selfless person who loved her family immensely, they were the cornerstone of her life. She will be missed by all who had the pleasure to have known her.
Family and friends are respectfully invited to attend visitation on Saturday June 15, 2019 from 8:30am- 10:00am in St. Gregory Church, 2215 Dorchester Avenue, Dorchester. A Mass of Christian Burial will be celebrated Saturday at 10:00am. Internment in Oak Lawn Cemetery, Roslindale. In lieu of flowers, donations in memory of Maryse may be made to American Stroke Association, P.O. Box 3049, Syracuse, NY 13220-3049.