Leanna "Tootsie Mae" Porter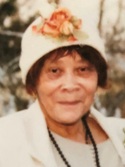 On Saturday, June 1, 2019, Leanna "Tootsie Mae" Porter, of Boston MA, loving wife and mother passed away at the age of 92 with her family at her side. Leanna Porter was born in Memphis, TN to Reuben and Annie Mae Jones.
She is survived by her sons, Edwin (Cynthia) Porter of Norwood, MA, Stephen Porter of Boston, MA, Preston (Wendy) Porter of Randolph, MA, Leroy Porter of Boston, MA, Geno Porter, Jr. of Boston MA, and Mark (Rhondella) Porter of Bridgewater, MA, her sisters Flora Taylor of Carson, CA and Ruby Gibbs, of Chattanooga, TN, a host of grandchildren, great-grandchildren, nieces, nephews and other relatives and friends.
Preceding her in death are her husband Geno Porter, son, Carl W. Porter, her parents Reuben and Annie Mae Jones, and her sister Camilla "Sugarbabe" Nance. Leanna was raised in Chattanooga TN, and later on, moved to Boston, MA where she met and married the love of her life Geno Porter.
She earned a certificate in Community Psychiatry from Boston State Hospital in 1974, she worked at St. Anthony's Shrine, The Women's Education and Industrial Union which worked towards the advancement of women and children, and St. Francis Chapel. She also worked as a Nursing Assistant. She enjoyed playing bingo and had a dedicated number of spots where she played bingo and was known as the "Bingo Queen" where she made and maintained lifelong friendships with several of her "bingo buddies". She enjoyed bingo and still played up until a few months ago.
Leanna lovingly raised 7 boys who were her pride and joy and a source of gratification and fulfillment as nothing or no one was more treasured by her than her sons. She took great pride in raising them, but she was no pushover, when it came time to disciplining them. When she spoke they knew who was in charge and dared not defy her. She personified strength, was hardworking and no matter how little she had, she gave them the world. To many of their friends, she was "Mom" because she welcomed everyone into her life and home with love and acceptance. Her grandchildren, great grandchildren, nieces, nephews, grandnieces and grandnephews were also a great source of joy for her as family meant the world to her, they loved visiting and seeing her not just for what she gave them, but for her unconditional love, her advice, her knowledge. She was always the favorite "Nana".
A funeral service will be held Tuesday morning in the Dolan Funeral Home, 1140 Washington St., DORCHESTER LOWER MILLS at 11 AM. Relatives and friends invited. Visiting hours Monday 4 -7 PM. Interment Fairview Cemetery.