Dr. Paul Frederick Cotter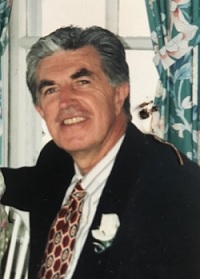 Dr. Paul Frederick Cotter, 83, of Milton, MA and Block Island, RI, passed away peacefully at home on Saturday, June 8, 2019. Born on June 24, 1935 in Worcester, MA, to his loving parents Thomas and Kathryn (Sullivan) Cotter.
Paul grew up in Worcester, attended South High School and graduated from the College of the Holy Cross in 1957. He went on to study medicine at New York Medical College and graduated in 1961. That same year, he completed his internship at the U.S. Public Health Service Hospital in Brighton, MA. While working at St. Margaret's Hospital in Dorchester, MA, Paul met the love of his life, Anne Dugan who was an instructor of maternity nursing at the time. They would marry soon after on September 22, 1962 at Sacred Heart Church in Weymouth. The two resided in Philadelphia while Paul finished his military service obligation and residency from 1962-1964 in the U.S. Public Health Service there.
Upon the birth of their first child, Paul and Anne moved back to her roots and bought their first home in Braintree, MA. The two went on to raise six children while Paul continued his medical education and became board certified in Obstetrics and Gynecology in November 1969. Anne and Paul had a storied marriage and they were a dedicated, loving couple for over 56 years.
Paul had a successful OB/GYN practice with his career-long partner, Dr. George B. Doyle. They worked together from 1967 until 2001. Both he and Doyle had faculty appointments at Tufts Medical School. They worked out of St. Margaret's hospital, Quincy City, Carney, Milton and New England Medical Center (now Tufts Medical Center) for most of their careers. At the peak of their practice they delivered up to 1000 babies a year. Paul retired in 2002 after a 37-year long career. He never really stopped doctoring, as he was consulted often by family and friends and rightfully earned the nickname "On-call Paul".
Paul was an avid sports fan and in his later years rarely missed a Red Sox, Patriots, Celtics or Bruins game. Larry Bird may have been his favorite athlete. He also spoke of Bob Cousy and Tommy Heinsohn who played for championship teams for both Holy Cross and the Boston Celtics. His love of baseball came at an early age as well when he founded a neighborhood league in Worcester. According to his brothers, he was the commissioner, manager and star player of his team, the Cubs. He often told the story of how he was the bat-boy at Fitton Field when Holy Cross played the Red Sox in an exhibition game one year and Bobby Doerr gave him an autographed picture of himself. His favorite baseball player was Ted Williams who coincidentally hit his first home run in a Red Sox uniform at Fitton Field.
Paul had a few hobbies. He loved old cars and was interested in real estate and architecture. He spent summers on Block Island as a young man and brought Anne out to the Island on one of their first dates. She instantly fell in love with the Island. He designed their home on Block Island, which was built in 1971. They spent summers and many holidays there with their children, grandchildren, other relatives and friends.
He was an incredibly hard-working and generous man. Everyone who met him described him as kind and compassionate. He was a selfless provider for his family, always offering a helping hand to all. He had a great sense of humor and loved playing practical jokes on Anne and the kids.
He was a proud, doting father and grandfather, which were arguably his favorite roles. Later in life, when Anne ran into several health challenges, he became her primary caregiver for many years. His love, support and devotion to her and his family never wavered.
He is survived by his brothers, Tom, Bill and Peter, his children, Paul, Julie, Chris, Amy, Melissa and Tim and his grandchildren Caitlin, Missy, Tom, Kyle, Liam, Richie, Brianne, Dylan, Mary, and Haley, as well as many other relatives and friends. A Mass to celebrate Paul's life will be held at St. Agatha Parish, 432 Adams Street, Milton, MA, Wednesday, June 19, 2019 at 10:30a. Visiting hours at Dolan Funeral Home, 460 Granite Avenue, East Milton Square, Tuesday, June 18, 2019, 4p-7p. In lieu of flowers, please make any donations in his memory to the Susan F. Smith Center for Women's Cancers at Dana-Farber Cancer Institute. Interment on Block Island to be announced.