Dorothy (Meehan) Levy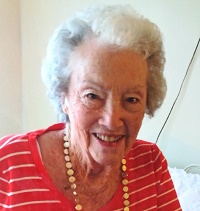 Dorothy M. Levy, 97, beloved wife, mother, grandmother, sister and friend passed away peacefully surrounded by family on June 15, 2019. "Dorth" was born in Chicago, Illinois. and soon moved to Alhambra, California, where she lived during her younger years. As an adult she moved frequently across the country due to her husband Bill's career as an Air Force officer, including a year on Kwajalein Island after the Korean War.
Dorothy eventually set down roots in North Andover, Massachusetts where she lived for over 40 years. As a long term employee of Sears she enjoyed working with numbers in accounting, and was a daily follower of the stock market. She kept her mind sharp by solving crossword puzzles and was a lover of mystery novels. She was also an avid bridge player sometimes playing 2 to 3 times a week. She and Bill vacationed in many countries and she loved learning about their cultures, decorating her home with treasures she accumulated on her many trips. Dorothy also delighted in hosting dinner parties for family and friends. She loved to share memories of her long and interesting life with others who were held captive by her stories and truly amazed by how she could recall the tiniest of details. Her sharp wit and dry sense of humor left an impression upon all those who knew her. Always a lady with something nice to say, her fresh lipstick, pearls, and elegant attire were her trademarks. "Mamie", as she was known by her grandchildren, spent countless hours playing cards with them and always had on hand their favorite snacks-whether it be deviled eggs or jello, and her candy dish was always full. After family holidays at her home there was a tradition of her flashing the porch light on and off to which we responded with a horn honk and big waves good-bye. Undoubtedly, Dorothy's favorite place was the family beach house on Balboa Island in California, where generations of aunts, uncles and cousins gathered for weddings, anniversaries, and amazing vacations. As the family matriarch, Dorothy was the last of her clan, and memories of her will be cherished by many family and friends.
Beloved wife of the late Lt. Col. William C. Levy. Loving mother of Robert Becker and his wife Susan of Piedmont, CA., Patricia Murray and her husband Jack of Largo, FL., Carolyn Skowronski and her husband Barry Crawford of Milton and Cynthia Grover and her partner Forrest Jaynes of Standish, ME.. Cherished grandmother of nine and great grandmother of four. Sister of the late Nannette Fletcher and Helen Meehan.
A Mass of Christian Burial will be celebrated in Saint Michael Parish, 196 Main Street, North Andover on Wednesday, June 19, 2019 at 12:30pm. A visiting hour will be held at 11:30am prior to the service. Interment will take place at Arlington National Cemetery, Fort Myer, VA. at a later date.
Memorial donations in Dorothy's name may be made to: One Company Fund C/O The Village at Willow Crossings, 25 Cobb Street, Mansfield, MA 02048.