Ada May McFarlane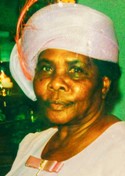 Ada May McFarlane was born in Aenon Town, Clarendon Jamaica on July 3. 1933 to proud parents Leanora and Joseph McFarlane.  She was the sixth of eight children.  After a brief illness she passed away peacefully in Boston on June 6, 2019.  
Ada May attended Aenon Town public school and was gainfully employed as a nurse's aide at Alexandria Hospital for 30 years before migrating to the United States in 1992. She continued in her profession as a home health aide until her retirement.
She is survived by her siblings Dottylin and Kenneth. Ada also leaves behind numerous nieces and nephews, grandnieces and grandnephews along with other friends and relatives.
A Funeral Service will be held at New Testament Church of God, 25 Stoughton Street, Uphams Corner, Boston on Saturday, June 15th at 11:00 AM.  Family and friends invited.  A visiting hour will be held at the church from 10-11 AM prior to the service.  Interment to be held in Aenon Town District, Clarendon, Jamaica.