Robert P. Beale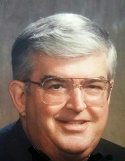 Robert P. Beale, of  Quincy, formerly of Boston, Tuesday, May 7, 2019.
Beloved son of the late Edward A. and Mildred Beale. Brother of Richard Beale and his late wife Doris of Scituate, Sr. Maureen Beale SCH of Quincy, the late Edward Beale and late wife Doris and the late Charles Beale. Brother-in-law of Renata Beale. Uncle of Patrick Russell, Christopher Beale, Thomas Beale, Timothy Beale and the late Elizabeth Beale and Terrence Beale.
He served for many years as a priest for the Archdiocese of Boston.
A Mass of Christian Burial will be celebrated in Saint Brendan Church, 589 Gallivan Boulevard, Dorchester, Monday May 13 at 10:00 AM. Relatives and friends are respectfully invited to attend. Interment New Calvary Cemetery, Mattapan.
In lieu of flowers, donations in Bob's memory may be made to Holy Cross Fathers, 480 Washington Street, North Easton, MA 02356.