Virginette "Virgie Ma" Spencer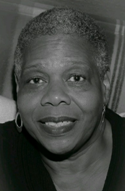 Virginette "Virgie Ma" Spencer, of Hyde Park entered into eternal peace on Wednesday, April 3, 2019 surrounded by her loving family.
Virginette was born on March 4, 1954 in Manchester, Jamaica to Garfield Spencer and the late Phyllis "Ma" (Bartley) Allen.  She spent her early childhood in Jamaica where she received her primary education before moving to England with her mother.  In 1969, Virgie moved from London England to Boston, Massachusetts with her mother and stepfather, the late Hyman Allen.
She graduated from the former Girls High School (Roxbury, Massachusetts) in 1972. At the age of 15 Virgie began her life-long career of caring for others as a part-time dietary aid after school at Tufts New England Medical Center. Over the years, she held several jobs in both the public and private sector as a Nurse's Aide before joining the staff of Beth Israel Deaconess Medical Center where she spent more than 30 years working in several departments before joining the staff of the hematology/ oncology department where she served not only as co-worker but mother-nurturer to her counterparts.
Virgie was a founding member of the former Caribbean Culture Center (The Club) where she became an avid cricket fan and formed life-long friendships with her Caribbean community.
Virgie was a caring and dedicated person who loved to cook for her family and friends. She also delighted in visiting her Jamaican homeland where she could immerse in her culture and relax in the sun on the sandy beaches. In her later years, Virgie enjoyed spending time with her children, grandchildren, and in her garden cultivating her flowers, vegetables, and herbs.
She was the beloved mother of Felicia "Lisa" Spencer and Chaz Spencer. Cherished grandmother of Stephen "Poohda" Spencer, Chaya Spencer, Kaylicia "Joy" Spencer-Dean, and Brooke Lynne Spencer-Holder. Sister of Hyman "Desmond" Allen, Danella "Cherry" Millings, Paulette (Allen) Vass, Danavan Allen, Kenneth Allen, Virginia "Veda" Allen, the late Kingsley "Roy" Allen, and Shaleen Spencer. She also leaves behind a host of aunts, uncles, nieces, nephews, and cousins.
Her loving guidance, laughter, and quick wit will be dearly missed.
Visiting Hours will be held on Friday, April 19 6:00 PM to 9:00 PM at Dolan Funeral Home, 1140 Washington St., DORCHESTER LOWER MILLS. The Funeral Service will be held on Saturday, April 20 at 11:00 AM at Morning Star Baptist Church, 1257 Blue Hill Ave., Mattapan. Interment will follow at Oak Lawn Cemetery. Relatives and friends invited.