Vera M. Murphy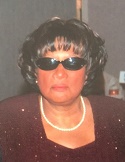 December 05, 1930 ~ March 31, 2019
Vera M. Murphy, 88, of Mattapan passed away on March 31, 2019.
Born in Red Springs, NC to the late McKinley and Estelle (Monroe) McPhatter.  Loving mother of Keith Slade, Michele Slade-Moore and Scott Murphy. Cherished grandmother of Derrick Slade and Tyrell Charles.
A Celebration of Life Service will be held at Antioch Missionary Baptist Church, 1082 Blue Hill Avenue, Dorchester, Saturday April 6th at 11:00 AM.  Family and friends invited.  Visiting hour to be held at 10:00 AM prior to the service at the church.  Interment Forest Hills Cemetery.