Norma J. Hargrove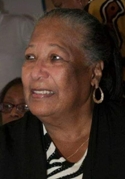 Norma J. Hargrove, 72, of Roxbury, passed away March 27, 2019.
Born in Eatonton, GA to the late Evelyn Hargrove and Joe Henry Johnson.  Loving mother of Regina Hargrove, Alexa Hargrove, Abrunda Chavis and the late Larry Chavis.  Beloved grandmother of 8 Grandchildren and 5 Great Grandchildren.
A Celebration of Life Service will be held at Concord Baptist Church, 180 Blue Hill Avenue, Milton, Friday April 5th at 11:00 AM.  Family and friends invited.  Visiting hour at 10:00 AM prior to the service at the church.  Interment Saint Michael Cemetery.