Mildred Edmeade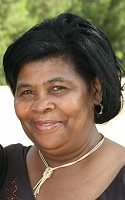 Mildred Edmeade 79, was a loving and devoted wife, mother, daughter, sister, nana and friend. On February 6, 2019, she was called home.
Mildred Agatha Stanley was born on October 5, 1939, to the parents of Vivian Stanley and Jasper Hendrickson on the bright and wonderful island of St. Kitts and Nevis BWI. Her mother wanted Mildred to become a bright star in her community; therefore, Mildred was taken to her grandmother, who showed her how to cook and clean and then to live with her aunt with whom she learned the fine skill of sewing.  Later, she moved to London where she worked many years as a seamstress for a buttonhole company.
In London she met William Edmeade and their love quickly bloomed. After a brief courtship they wed on March 29, 1962. Shortly thereafter, had two sons, Keith Anthony and Paul Adrian. Thinking about their future they began to envision their lives in America. While pregnant, with a couple of suitcases and two toddler boys in tow, the couple took a chance and ventured to America on October 1, 1970. There, they welcomed their son Colin Patrick and daughter Jacqueline Monique into the family.
Mildred was proceeded in death by her mother Vivian Stanley, her husband William Edmeade, her brother Mordred Stanley, and her sister Ernestine Wilson. She is survived by her sons Keith Anthony, Paul Adriane, Colin Patrick and daughter Jacqueline Monique Edmeade; her grandson Antonio Orlando Andrade Edmeade, granddaughter Isabella Elizabeth Edmeade, as well as daughter-in-law Amelia Edmeade. Mildred is also survived by her sisters Iona Maynard and Esther Dyer, and her brother George (Ivor) Stanley.
We will miss her greatly, but heaven is rejoicing and welcoming her with open arms as she is once more united with her loved ones.
Visiting hours at the Dolan Funeral Home, 1140 Washington St., DORCHESTER LOWER MILLS, on Friday March 1 from 6-9pm. Funeral Service will be held at the funeral home on Saturday at 9am. Interment at Cedar Grove Cemetery.