Marie Eva Menard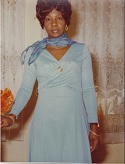 Marie Eva Menard, a long-time resident of Dorchester, died peacefully in her home Friday the 22nd of March, 2019.
Born March 25th, 1937 in Mombin-Crochu, Haiti, to Fortune Audate and Sinorine Pierre, Marie worked as a school teacher there until September of 1975 when she immigrated to the US. Upon moving to Boston, she worked at Hotel Meridien until her retirement on September 11, 2001.
Marie loved to cook for her family and was very active in her Church community. Marie was a devoted Catholic and was selfless in her daily life, giving every moment she had to make sure that everyone she came in contact with was loved and cared for.
She is survived by Gabriel Menard, her husband of 60 years, her 7 children (Carl, Frantz, Jean, Ronald, Ricardo, Handy and Ketlourdes), her 15 grandchildren (Guerline, Philippe, Evans, Derrick, Alyssa, Randall, Bryce, Phylisha, Gregory, Dominique, Antonio, Alexander, Aditi, Ryan, Skylar), one great grandchild (Domari Murray) and her living siblings (Marie Josee Maurasse (nee Audate), Theo Audate, Laure Audate, Nolla Audate, Marie Mercie Audate, Francesca Audate, Luce Audate, Jean Baptiste Audate, Pierre Marie Audate, Keitel Audate).
The visiting hours will take place at Dolan Funeral Home 1140 Washington St, DORCHESTER LOWER MILLS, MA 02124 on Friday April 5th between 6:00 and 8:00PM
A Mass of Christian Burial will be held at the St Matthew's Church, 33 Stanton St, Dorchester, Saturday, April 6, at 9 o'clock. Interment will be at Fairview Cemetery, 45 Fairview Ave, Hyde Park, MA 02136.