Jassy Gelssa Pires Correia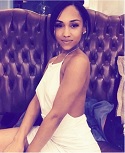 Jassy Gelssa Pires Correia, 23, passed away on February 28th 2019.  She was born in Praia, Cabo Verde Islands, but her home will forever be Boston, Massachusetts. Jassy immigrated to the United States with her father at the age of three and resided in Dorchester, MA since. She was a hostess at Del Frisco Restaurant in Boston, but her most cherished job in life was being a loving mother to her 2 year old daughter Gaby. She will be remembered for her love of dancing, her passion for photography, and her ability to make you laugh at your worst moments. Above all, she cherished the time spent with family, friends, and her daughter with whom she enjoyed their time spent at the park.
Jassy is survived by her daughter; Gabriela Castro; her loving father Joaquin Correia of Dorchester; her mother Salete Vicente Valadeiro of Lisbon, Portugal; her brother Joel Correia of Dorchester; her aunts Euprepia Correia (who raised Jassy as her own) and Rosalina Correia of Dorchester; her uncle Daniel DePina of Dorchester; cousins Merly Miranda, Roseana Gomes, Katia DePina, Rony Gomes, Mauricio Andrade and Nate DePina of Dorchester, as well as many other cousins around the globe.
Relatives and friends are respectfullly invited to attend Visiting hours on Friday March 8th, 5 to 9pm at Saint Peter Church located at 311 Bowdoin Street in Dorchester, MA.   A Mass of Christian Burial will be Celebrated on  Saturday March 9th at 10 A.M at Saint Peter Church.  Interment in  New Calvary Cemetery , 800 Harvard Street Boston, MA.
A repass for friends and family will take place following the burial at Saint Peter Teen Center, located at 278 Bowdoin Street (across from St. Peter Church) in Dorchester, MA.
Donations in Memory of Jassy may be made to her daughter's education fund http://www.gofundme.com/jassy-correia
Please Note; Flower deliveries will only be accepted  to Saint Peter Church at 311 Bowdoin Street Dorchester, MA 02125. before 3 PM on Friday March 8, 2019.