Armand Vaval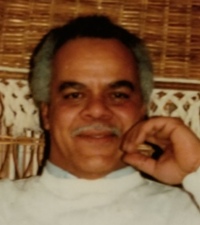 Armand Vaval of Fall River passed away suddenly on Friday February 22 2019.
A long time resident of Mattapan and Fall River, he is survived by his daughters Alexandra Vaval-Blackwell and Suzanne Vaval-Demesmin; his grandchildren Jamarr Goff Jr, Derek Blackwell Jr. And Cheyenne Blackwell; also survived by siblings Nicole Vaval and family, Gerard Vaval and family, Luc Vaval and Family, Maxime Vaval and Family, Daniel Vaval and Family, multiple cousins nieces and nephews along with  his long-time companion Lydia Sotomayor; her children Wendy Karppinen and Eric Sotomayor; and grandchildren Angel Sotomayor and Riley and Vincent Karppinen.
A Mass of Catholic Burial will be celebrated in Saint Angela Church, Mattapan Square, Saturday, March 9, at 1 PM. Visitation to be held at the church, 12 Noon to 1 pm. Relatives and friends invited.