Ann M. Durand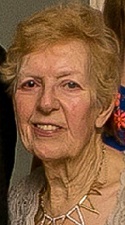 Ann M. (Finn) Durand, a longtime resident of Milton passed away on March 23, after a brief period of failing health. She was 91.
Born in 1927, Ann was one of ten children of Michael Patrick Finn and Anna (McLaughlin) Finn of South Boston. She was a graduate of South Boston High School, class of 1945. In 1947 she wed Henry M. Durand, also of South Boston. Henry Durand was a decorated veteran of WW II and Boston Firefighter. They settled in Dorchester. Henry Durand died at age 36 in 1961.  Ann was left with three sons ages: 10; seven; and 16 months. Throughout the 1960s, she worked a variety of part time jobs to support her family. She later obtained full time employment as a clerk/typist with the state of Massachusetts a position from which she retired.
She is survived by sons: Paul and Mary Ann (Stewart), of Tucson; Dennis and Eileen (Hamilton) of Hingham. Granddaughters: Diane Rawlings (Jeffrey) of Eden Prairie, MN; Caitlin of Boston; and Elizabeth of Bel Air, MD. Great grandchildren Aiden, Rose and Pearl Rawlings. She was predeceased by a son: Thomas (Dominic Gallucio), late of Dorchester; and Grandson: Clifton, late of Marshfield. Also survived by a brother, James Finn of Pembroke and sister, Eileen (Edward) Miller of Quincy. She maintained a close relationship with her godchild, Geraldine Flaherty of Brockton. Funeral Services and Interment Private. A memorial service will be held in the summer of 2019.