Thomas Joseph Mahoney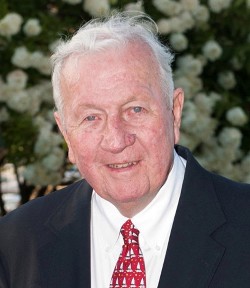 Thomas Joseph Mahoney
October 19, 1936 – February 23, 2019
Thomas Joseph Mahoney 82, of Milton, Massachusetts, died peacefully surrounded by his loving family on February 23rd, 2019. He leaves behind the love of his life, his wife Mary Arvin Mahoney, his three children, daughter Laurene Trout and her husband Tom, daughter Tracy Vaughan and her husband Richard, son Thomas Mahoney and his wife Julianne.  He is also survived by seven grandchildren – John Trout and his wife Paige, William Trout, Robert Trout, Elly Vaughan, John Vaughan, Dylan Mahoney and Luke Mahoney as well as many nieces and nephews.
Born in Boston the only child of W. Leo and Mary Agnes Mahoney, Tom was a "double eagle" graduating from BC High (54) where he was the captain of the basketball team and Boston College (58) where he was the Regimental Commander of his ROTC and 3rd in his class. Prior to graduating he was recruited into Maxwell House Coffee's executive training program. From there he worked as a marketing executive for Salada Tea, and ultimately became the Executive Vice President and General Manager of Bozell, Jacobs, Kenyon & Eckhardt's Boston Office.
Throughout his career Tom served on various Boards of Directors for organizations such as The Ad Club of Greater Boston, Fisher College, Springfield College, Catholic Charities, Wollaston Golf Club, Imugen, Inc and also served as Chairman of the Board for the Greater Boston YMCA.
Later in his career he dedicated his time to fundraising for several non-profit organizations including the Mass Hospital School, Catholic Charities, South Boston Community Health Center, The North End Community Health Center and the Greater Boston YMCA. In fact he initiated the first fundraising program for the Mass Hospital School (now known as the Pappas Rehabilitation Hospital for Children, Canton, MA).  His successful career in advertising and fundraising spanned over 50 years.
He traveled widely and enjoyed trips with friends and family.
Most weekends Tom could be found on the golf course at Wollaston Golf Club in Milton, MA where he was a longtime member.  His kind eyes, warm smile, and gentle nature will be missed by all.
Family and friends are invited to attend visiting hours at Dolan Funeral Home, 460 Granite Avenue, EAST MILTON SQUARE, Friday, March 1 from 5 – 7pm.  A Mass of Christian Burial will be celebrated in Saint Elizabeth's Church, 350 Reedsdale Road, Milton on Saturday, March 2 at 10am.
In lieu of flowers, please consider a donation in Tom's memory to the Hellenic Nursing and Rehabilitation Center, 601 Sherman Street, Canton, MA 02021.