Susan McTigue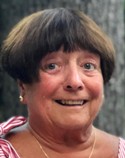 Susan (Wilkins) McTigue, of Milton, passed away peacefully on February 19, 2019.  She was predeceased by her beloved husband, Hugh J. McTigue, and her loving son, Gregory H. McTigue. Susan is survived by her daughter, Gretchen  A. McTigue of Milton, and her granddaughter Phoebe Ann McTigue of Milton.  She also leaves her brother John "Jay" Wilkins and his wife, Lynn, of North Grafton, her brother Mark Wilkins and his wife, Nancy, of New Hartford, NY, her sister Virginia "Ginny" Donovan and her husband, Paul, of Milton, her sister Ann Carroll and her husband, Tom, of Marshfield as well as many special nieces and nephews.
Susan was raised in Braintree, where she was one of five children. She and her siblings shared an intense bond and have remained best friends, a closeness that recently provided Susan with an immeasurable amount of love and support.  Susan was a graduate of Fontbonne Academy as well as a proud and celebrated member of the Dorchester District Court Family for over 30 years.
Susan was quick with a laugh, generous with her smiles and always willing to lend an ear.  These traits made her a legend in the Judge's Lobby at Dorchester Court and a cherished friend.  Her natural maternal way made her a "mother" to so many, a role she happily embraced.  Motherhood was her calling and she did it so well, but grandmother-hood brought her the most joy.  Her love for Phoebe was infinite; her pride and adoration were palpable and it was mutual.  The void Susan's death has left is wide and deep, but her spirit will live on in all her friends and family, especially in her granddaughter, Phoebe.
A Mass of Christian Burial will be celebrated in Saint Gregory's Church, 2215 Dorchester Ave., Dorchester on Monday, February 25 at 10:00 am. Relatives and friends invited. Visiting hours at the Dolan Funeral Home, 460 Granite Ave., EAST MILTON SQUARE, Sunday, 4-8 PM. Interment Milton Cemetery.  Donations may be made in Susan's memory to The Schwartz Center for Compassionate Healthcare, www.theschwartzcenter.org, 100 Cambridge Street #2100, Boston, MA 02114.