Mary (Doonan) Regan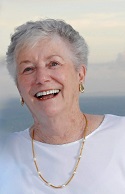 March 30, 1932   –  February 23, 2019
Mary Regan died as she lived, surrounded by love. She was born in Boston to John and Catherine Doonan and lived in Milton her whole life. A couple of years after Mary was born, she was joined by her sister Pat which was fortunate as Pat became her best friend for life. Completing her family were her two beloved older brothers, John and Patrick (Sparky). She attended St. Gregory's High School, Wyndham School, and Boston College Intown post high school. One fateful New Year's Eve a dapper young man noticed a vivacious, beautiful brunette and thus started Mary and Murray's 70-year love affair. Together they raised 6 kids. Their homes in Milton and Green Harbor, Marshfield were always open to family, friends, gaggles of kids of all ages and whoever else 'the cat dragged in'. Delicious food, lots of laughs, and soulful nourishment were always on the menu.
Ever since she was a child, Mary loved the library. She ran for Library Trustee in 1992 and won in a landslide election much to her surprise, but nobody else's who knew her. She served as Trustee until 2011 and was instrumental in the efforts to modernize and expand the Milton Public Library. Related to her passion for books and reading, Mary was an avid writer and published author. Much of her writing satirized the antics of her family in the Erma Bombeck style whose writings she thoroughly enjoyed.
Mary held many jobs as a secretary throughout her life and her most recent job was at Nichols and Pratt in Boston. Although she served as Administrative Assistant, her real role was bringing laughter, happiness, and a listening ear to her coworkers and they adored her for it.
Her family and friends thought Mary, who they referred to as the Mayor of Milton, might have known everyone in town. She had the unique ability to create a personal, genuine connection with every person she met. She always made time to share a kind word, a smile, or a chat. Her humor and wit enhanced planned gatherings and chance meetings. In her later years, she held court in Bruegger's in East Milton meeting up with old friends and making new ones dispensing her brand of love and wisdom infused with humor.
Her fortunate children believe the role she most excelled in was that of Mother. To be seen, loved, and accepted for who you are and what you have to offer is a gift which she freely gave. Mary's sister Pat's family grew up in Milton too and the four Sullivan kids and Regans got the benefit of growing up with two Mothers, or 'the Aunties' as the kids call them. As her children grew and married, Mary delighted in her new in-laws and loved them dearly. Along came her 11 cherished grandchildren and she enjoyed nothing more than having the whole family together for celebrations and fun. Fun happened to be one of Mary's specialties.
Mary leaves behind many friends, neighbors, and an incredibly grateful family: Her loving husband, J. Murray Regan of Milton, her best friend and sister Pat (Auntie) Sullivan of Milton, her children, their spouses and grandchildren children: J. Murray Regan III of Weymouth and Kathy Regan of Milton and their daughters Emily and Olivia, Lee Larkin of Needham her husband Bob and their daughters Elizabeth and Katy, John Regan of West Roxbury, Ellen Smith of Acton, her husband Aidan and their children Liam and Bronwyn, Beth Whitney of Hingham, her husband Kevin and their sons Brendan and Justin, Katie Kane of Sudbury, her husband Dave, and their children Caroline, Avery, and Andrew.
A Mass of Christian burial will be celebrated in St. Agatha Church, 432 Adams Street, Milton, Friday March 1 at 10:00 am. Visiting hours at Dolan Funeral Home, 460 Granite Avenue, EAST MILTON SQUARE Thursday 3-7 pm. Interment at Milton Cemetery.
In lieu of flowers, donations may be made in Mary's memory to Milton Library Foundation 501(c)(3) http://foundation.miltonlibrary.org/