David Delisle Griffith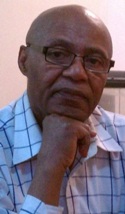 David Delisle Griffith, 76, of Dorchester, passed away February 3rd with his loving wife by his side.
Beloved husband of Beatrix Bowen-Griffith.  Loving father of Patricia Griffith-McNab, Kathy Zachery, David Griffith, Lakeisha Taylor, Stefany Griffith-Peters and Davina Griffith.  He is survived by 17 grandchildren and 7 great grandchildren.
David was born in Saint Michael Barbados to Edward Staurt and Violet Griffith. Brother of Hazel Griffith, Victor Griffith and the late Willie Griffith and Eric Griffith.
Funeral Services at All Saints Episcopal Church, 209 Ashmont Street, Dorchester Center, Saturday, February 23, 2019, visitation from 9-9:30 am and the Service at 10:00 AM.  Family and friends invited.  Visiting hours at Dolan Funeral Home, 1140 Washington Street, DORCHESTER LOWER MILLS, Friday 22nd from 5-9 PM.  Interment Cedar Grove Cemetery.