Casimiro Dias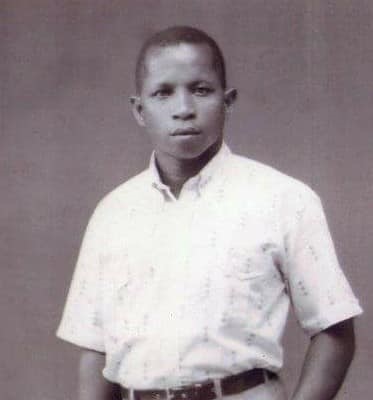 Casimiro Gomes Dias, affectionately known as "Shilido" by his kinfolk, was born on March 4, 1934 in Biscainhos, Tarrafal, Sao Tiago, Cabo Verde, to the late Luis Varela Dias and Alexandra Gomes Miranda. Casimiro was raised with one sister, Maria Gomes Varela (Tocha), and one brother, Juliao Varela. Juliao preceded Casimiro in death.
Casimiro was reared in the mountainous terrain of Biscainhos, where enslaved Africans ran away to escape oppression of Portuguese colonizers and slave owners during slavery. They call the area "Fora" (far away, outskirts, rural). He grew up in a culture steeped in African traditions, such as, the call and response/ song and dance, 'batuku' and celebratory festival, 'Tabanka.' Casimiro loved to watch performances of batuku. He grew up in a close-knit family where family values were instilled in him. Casimiro was brought up to love and revere God; he developed a personal relationship with God.
In 1967, in a union with Emilia Gertrudes Andrade of Ribeira Grande, Boa Vista, Casimiro welcomed twins, Angelo Manuel Andrade and Angela Maria Brito Andrade into the world. Around 1968, Casimiro met the late Maria Isabel Mendes Teixeira of Praia, Cabo Verde. In the 1970's they were blessed with three children, Alexandra Gomes Dias (1970), Onildo Casimiro Gomes Teixeira Dias (1974), and Joao Casimiro Teixeira (1977). Isabel and Casimiro were married in 1978. The family moved to Boston, MA in 1982. Then, in 1987, Casimiro and Isabel bore their last child, Gesibela Dias Pina. Sometime between 1971 and 1973, Casimiro had a son, Luis Dias, with another woman. Casimiro and Isabel lost a child, Antonio Casimiro Fernandes Gomes Dias, born in the 1970's, preceded him in death.
Casimiro worked full-time at Stride Rite Corporation in Roxbury, MA for several years until he retired in 1999. Casimiro had great work ethic and he hardly called out sick. He worked tirelessly to ensure that his wife and children were provided for. Casimiro loved red wine and Johnnie Walker. His children loved poking fun at him as he slept at the dining room table after enjoying a scrumptious meal (prepared by Isabel) and a few glasses of his favorite drinks.
Casimiro was a stern, yet loving man. He was authentic. He did not pretend to be something that he wasn't. If he didn't like someone, they would not have to reflect deeply to figure it out. However, he was a respectful and respectable man. He loved his family in CV and would always support them in any way possible. Casimiro was active in his political party, and he attended various social events. He loved to read and write, and he encouraged his children to do the same. On February 21, 2019, (daughter Alexandra's birthday), He bade farewell to this earthly plain; he went to the place where there is perfect peace; where there are no aches and pains. He leaves to celebrate his life 7 children, three children-in-law, 1 sister, 11 grandchildren, 4 great-grandchildren, and dozens of nieces, nephews, cousins, and a host of wonderful friends.
A Mass of Christian Burial will be celebrated in Saint Patrick Church on Thursday, February 28 at 10am. Visiting hours at Dolan Funeral Home, 1140 Washington St., DORCHESTER LOWER MILLS, Wednesday from 5-9pm. Interment at Cedar Grove Cemetery.