Alice M. Zona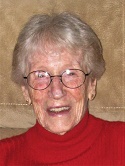 Alice M. Zona of East Sandwich, February 21, 2019, at age 98.
Alice grew up in Dorchester, where she met her late husband Pat while roller skating.  Alice was a war bride, as the couple married shortly after he enlisted to serve in WWII. When Pat returned from his overseas service, they relocated to the suburbs, residing longest in Braintree.  Summers were spent in Manomet with their three children.  Alice worked many years in retail sales, mostly at Kennedy's in Braintree.  Her hobbies included making beautiful sweaters and afghans for her family.  She enjoyed baking and delighted in sharing her favorite desserts with family.  Alice and Pat settled in retirement in East Sandwich, where they made good friends and were surrounded by thoughtful and supportive neighbors.  In retirement, Alice's long-time interest in house plants blossomed into a passion for outdoor gardening. Her children and their spouses were fortunate to spend lots of time with Alice and Pat, and to offer support as they enjoyed retirement at home.  Alice and Pat enjoyed a relationship of mutual love and devotion during their 70 years of marriage, and this was most evident in the care Alice provided her husband during his last years.  Alice brought determination and focus to everything she did, and her great strength and resilience helped her meet the health challenges that inevitably come with age.  Alice was feisty when needed, but she will be remembered and missed by all who knew her for her kindness and compassion.
Beloved wife of the late Pasquale J. Zona.  Devoted mother of Jacqueline P. Coffman and her husband Steven of NC, Joseph J. Zona and his wife Meredith of Arlington, and the late Lois A. Martin and her husband Clifford of Stow.  Known as Buppy to her grandchildren – Brian, Craig, Keith, David, Christopher, Brittany and Chelsea, and to her 7 great grandchildren.
A Mass of Christian Burial will be celebrated at Saint Agatha Church, 432 Adams Street, Milton, Wednesday, February 27th at 10:30 AM.  Visiting hours at Dolan Funeral Home, 460 Granite Avenue, EAST MILTON SQUARE, Tuesday 4-8 pm.  Interment Blue Hills Cemetery, Braintree.
If desired contributions in Alice's memory may be sent to Sandwich Council on Aging, 370 Quaker Meetinghouse Road, East Sandwich, MA 02537.